Nissan Titan Test Drive
Last Updated: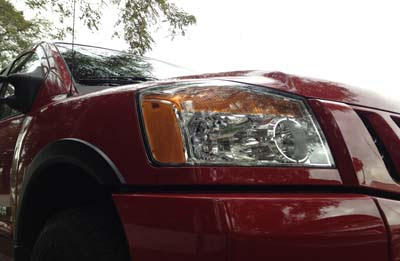 -HOW IT LOOKS.
Even though it came out in 2004, I think the Titan pick-up still looks pretty good.
They did try to make it look more modern that the competition.
Most other trucks have been redesigned since, but the Titan still seems pretty modern.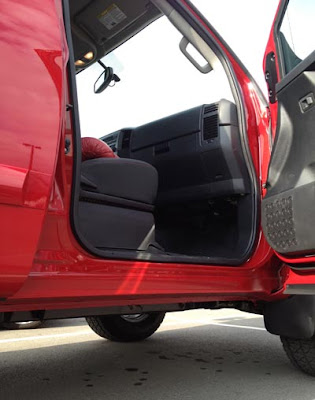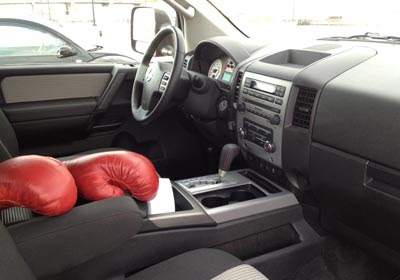 -HOW IT IS INSIDE.
My test truck didn't have running boards, which made it pretty difficult to get in for most people.
Once inside, the interior is, like the exterior, still pretty modern.
Although maybe a bit too simple looking for most truck buyers. There is no chrome trim, or fake wood anywhere.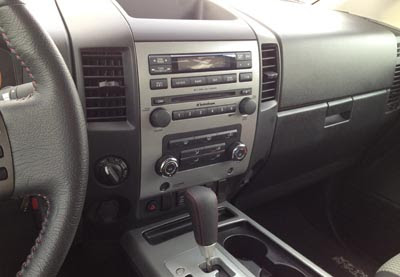 While the Armada got a new dash a while ago, the Titan didn't. But it still looks good.
Everything feels very solid and well put together.
Most plastics are pretty hard to the touch, but it seems just fine in a truck.
The front seats are firm and comfortable.
In my test unit, there are covered in a very durable looking cloth.
The stereo sounded just fine, but not amazing. And there is no USB plug.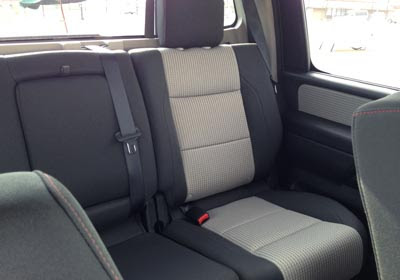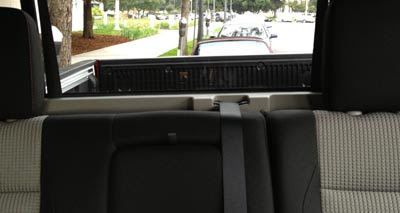 I must say, I am used to drive cars mostly, not full size trucks.
One of the drawbacks is the horrendous visibility out back. You just can never tell how close you are to the car behind you.
The Rear Sonar system is a big help, and a must have.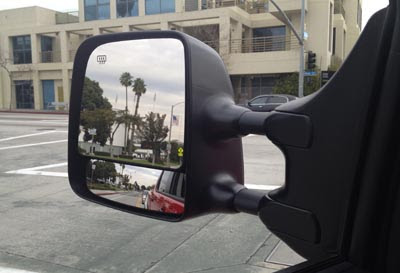 Another pain in daily city driving are the over sized mirrors.
They stick out so much that I actually almost hit someone with them.
You do get used to the size of the truck itself, but constantly have to watch out for the mirrors.
Which can be quite a chore. Especially if you are not towing anything and don't need them in the 1st place.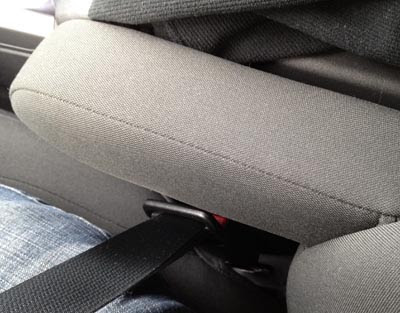 A smaller annoyance is the placement of the front armrest. Right in the way of the seatbelt latch.
Not that bad, but it just makes you wonder why nobody really noticed this before it went into production.
And why no one fixed it in almost 7 years…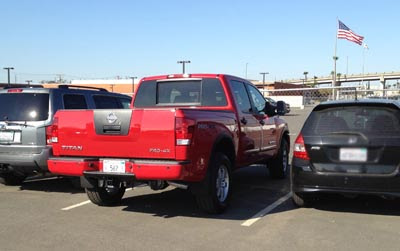 -HOW IT DRIVES.
.Ride and steering
It does ride like an old fashion truck.
It constantly moves around. Except when the road is glassy smooth. (which isn't often around here)
So I guess most people would call it "trucky" and put up with it if they do need a truck.
But if you are coming from driving cars, this feels pretty medieval.
The closest thing to this I drove lately was the Tahoe, where the ride felt much more civilized.
The steering was pretty nice, with decent feel. And not too light.
This was a nice surprise.
.Engine.
The big 5.6 Liter V8 might be putting out 317hp, it still feels pretty slow.
And gets really noisy.
It is rated at 12/17 MPG.
I did get about 12 in the city, but got about 21 on the HWY.
The transmission is pretty smooth, but very reluctant to downshift. Which is a part of why the whole thing feels so slow.
_SO???
I have to say, I am really not someone who would even consider buying a full sized pick-up truck for my daily driving.
This thing is so bi that it becomes a chore to park it anywhere if you live in the city.
Plus the constant rough ride really doesn't inspire confidence in most driving situations.
And my test unit was priced at $40 025. Not cheap. Especially for something without a sunroof, leather or navigation.
But, if you are in a market for such a truck, this one feels very solid and well built. And still looks pretty modern.
My "Red Alert" 4X4 Pro-4X got plenty of looks. (Mostly in Burbank, not "cool" Los Feliz…)
It is actually not that popular in general. Only about 22000 were sold last year. Which is a fraction of that Ford and GM sell.
It seems that most truck buyers do want to buy domestic. Which puts Nissan (and Toyota) in a tough spot.
The Titan will be all new next year. So will the GM trucks.
There is nothing like good competition to improve a product.