Nissan Cube test drive.
Last Updated: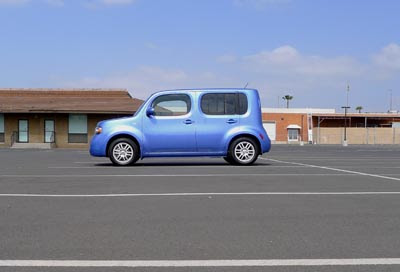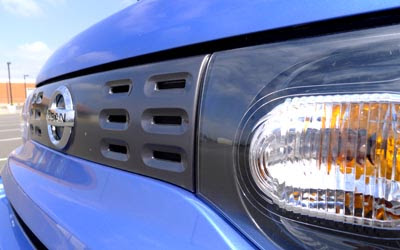 We have now all seen the second generation Cube in our roads.
It still stands out. Kind of like a clown car almost. More so than the Scion or Kia Soul.
The asymmetrical windows is still a cool trick. But the huge blind spot on the driver side isn't…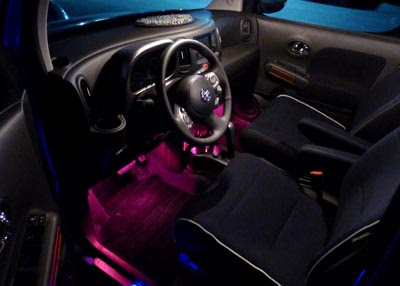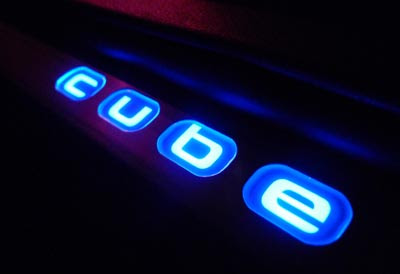 The version I had for a week was the S Indigo. Which included the psychedelic lighting show pictured above.
But also a navigation system, alloy wheels, push button ignition and a great Rockford Fostgate stereo.
For a total of about $19 500. Which isn't too bad.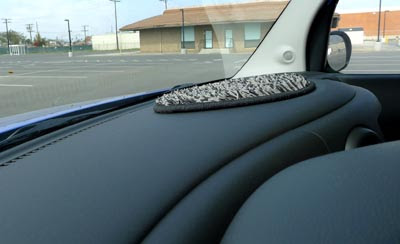 Just like in other versions, you can get the fun looking fuzzy mat on top of the dashboard.
The problem is, the dash slopes downward and the mat isn't made of grippy material. So almost anything you put on there will slide all the way to the base of the windshield. And get very hot…
I will file this under my "it sounded like a good idea" folder. It does need more work/thinking.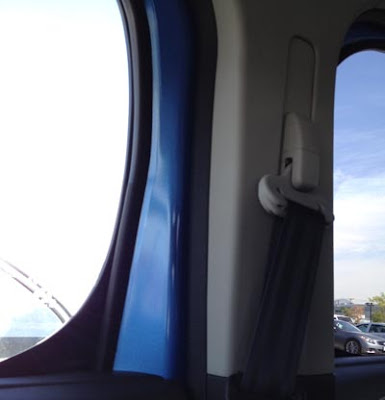 Once you settle in, you realize the interior quality varies between cheap and very cheap. Like the exposed front door pillar inside of the car.
Every piece of plastic is of the hard, cheap kind. Which is actually the norm on most non-luxury cars these days.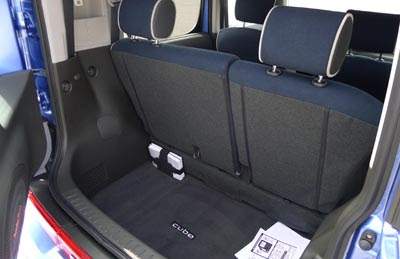 The rear bench can slide forward if you need more trunk space.
This picture shows it all the way back. (I had tall friends to take out to lunch that day)
The space left isn't bad at all for such a small car.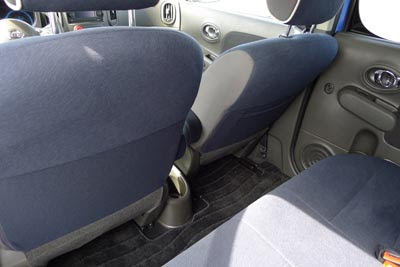 Again, with the rear bench positioned all the way back, leg room was more than decent.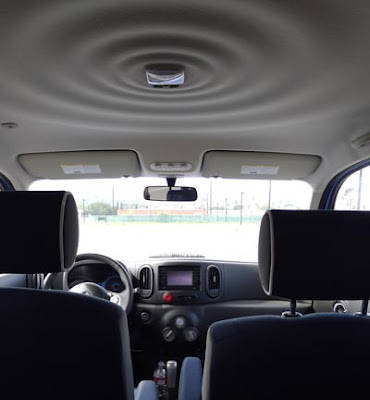 So?
The Cube does look cool, for sure. If a bit cheap inside. But again, it does start at about $15 000.
The engine is mostly quiet, unless you really try to push it.
The CVT works pretty will for this car. It does rev up the engine a bit when you push it, trying to mimic an nonexistent downshift.
When driven in a relaxed manner, everything is very quiet and pleasant.
On the other hand, the handling never feels very secure. You sit high and the box feels quite tippy. It just has a general loose feel to it.
Again, it's not something you want to rush around town.
Small annoying details include the lack of console storage. A leather wrapped steering wheel that feels like plastic.
And strong reflexions from the interior lights onto the driver's side window.
But. The small engine/CVT does wonder for city mileage. I was able to get 29 to 30 MPG while the official rating is 27.
Even better on the freeway, where surprisingly enough, the shoebox shaped vehicle managed over 28MPG. While the official rating is only 31.
The Cube is fine, but not the most secure or refined ride. Even for the low price.