All new 2013 Altima starts production
Last Updated: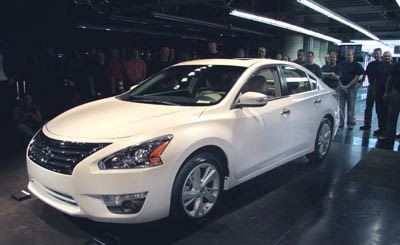 Nissan started production of the all new Altima today in Tennessee.
Which also marks the 20th anniversary of the US built model.
Nissan also mentioned their intention to beat the Camry as the number one selling car in the US.
Toyota sold about 40 000 more Camrys last year. So it is possible for Nissan to beat it.
With a new design, new really cool features and best in class gas mileage. And also considering the new Camry average reviews so far. The Altima does actually have a chance this time around.
No matter what, 2013 should be a great year for mid sized sedan shoppers….