Infiniti JX35 Test Drive Part One.
Last Updated: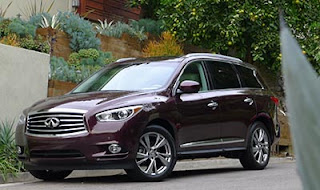 Interesting to drive this about a week after I drove the more truck based giant QX56.
The JX is a completely different way to transport 7 adults in luxury.
It is based on the FWD car platform used for the Altima/Maxima/Murano.
It is basically Infiniti's version of the new 2013 Pathfinder. With its own design and interior.
It is also made in the US.
So far I only have a few first impressions. The ride seems fantastically comfortable.
If a bit soft.
Steering seems to have zero feel to it.
As usual, the Nissan CVT/V6 combo works perfectly.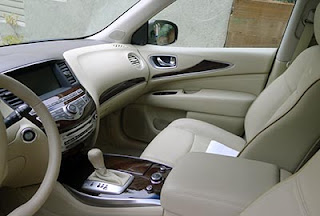 I really like light interiors, but this one tends to be a bit yellow. Like a light yellow instead of the "cream" used in most cars… Weird.
Also the satin metal finish is a nice touch. But it seems to be overdone here. And now most of the metal ends up looking a bit plasticky.
I will report back after I drive it more. As usual, feel free to ask any questions you might have.