Infiniti QX test drive. Part one.
Last Updated: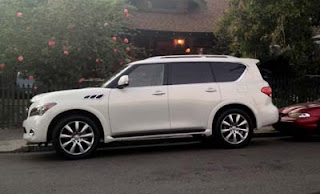 I am driving this giant beast for the week.
So far, just a few notes.
It is as big as it seems. It stands out in a street where you park it where it usually the tallest thing around.
From the little driving I have been able to do so far, I can tell the ride is a mix of smooth and pretty hard, at the same time. Pretty typical of big trucks.
Steering is OK.
Interior is really luxurious (It should be for $75 000)
Looks like I won't be getting much more than 12MPG driving around town…
And there is an annoying vibration in the steering wheel when the engine is between 1100RPM all the way to about 2000RPM. Not bad but enough to be noticed by anyone else but the driver.
1000 to 2000 RPM is mostly where you are when driving around town.
Will report again soon. Ask any questions you might have.