VW Passat Performance Concept
Last Updated: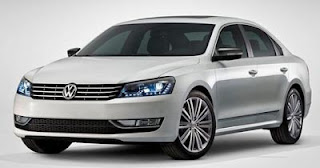 Doesn't look much like a real concept to me.
The idea here is to show us that a sportier version of the US Passat is in the cards.
The other news is the engine. The concept uses a 250 version of the new 1.8 Liter Turbo engine.
This engine has been rumored for a couple of years as a replacement for the (US only) 2.5 Liter .
The 2.5 L is currently used in the Beetle, Jetta and Passat in the US.
So this new 1.8 L Unit will be quite popular.
In the Passat, if there is a 250 version that could mean the end of the V6 as well.
Not sure where the old 2.0 Turbo stands in all this….