Nissan Versa Note test drive.
Last Updated: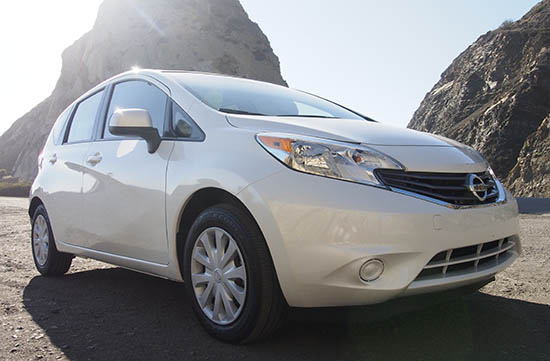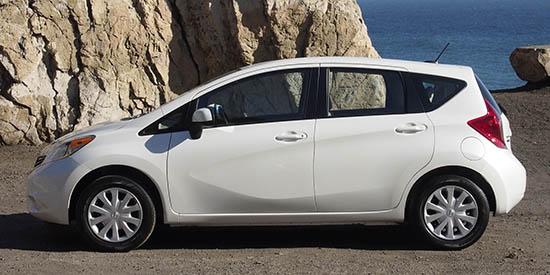 The Versa Note replaces the Versa hatchback for 2014.
It is not really a hatch version of the Versa. That would be the new Tilda. Now only sold overseas under other names like Pulsar and Latio.
The one we have here is the 2nd generation Nissan Note. Called Versa here so they can inflate the sale numbers of the "Versa".
Which is fine, I guess. But it really shouldn't be called Versa. It is no more a Versa than the Nissan Cube is.
No matter what, the new Note is a nice looking car. Much, much better looking than the Versa Sedan.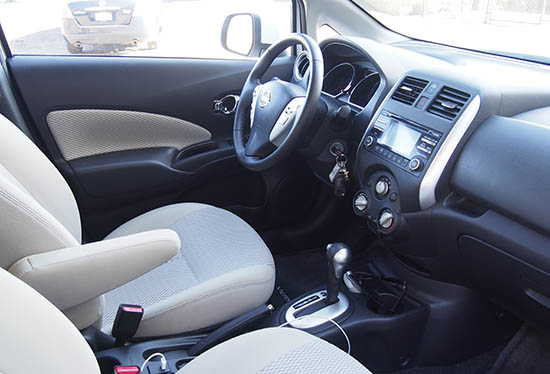 Inside, it shares the Versa sedan dash for the US market.
(It has a nicer one in Europe).
Which is too bad. It is not horrible, but pretty plain.
And
there is no soft plastic anywhere to be found.
At least if all feels pretty good and solid. I really like
the two tone interior. Much nicer than the all black alternative. (Especially
this week since it was around 102 in Los Angeles.)
The stereo is a pretty basic 4 speaker affair. And it doesn't
sound that great.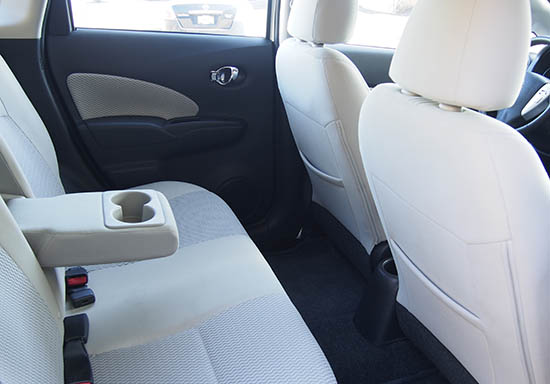 The back seat is surprisingly roomy. With a totally flat floor.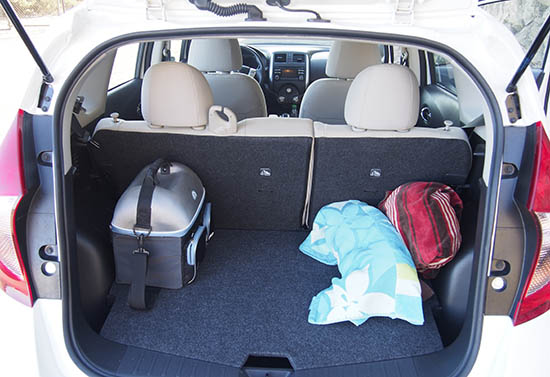 There is also plenty of room in the truck. It even has a nice
hidden lower compartment underneath.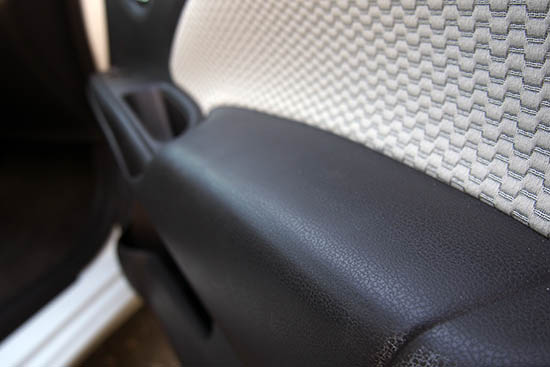 As I said, no soft plastic. Anywhere. Not even on the door
armrest. (Although that could be due to the pre-production car I was driving. )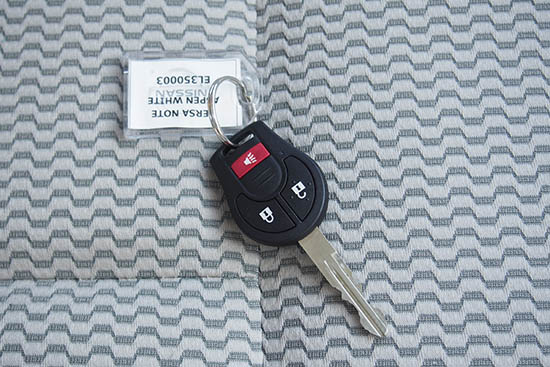 The key from my SV version is pretty basic. (Cheap) Very
80's. And the sound from the alarm is very high pitched and quite annoying. Something you have to hear it every time you lock the doors…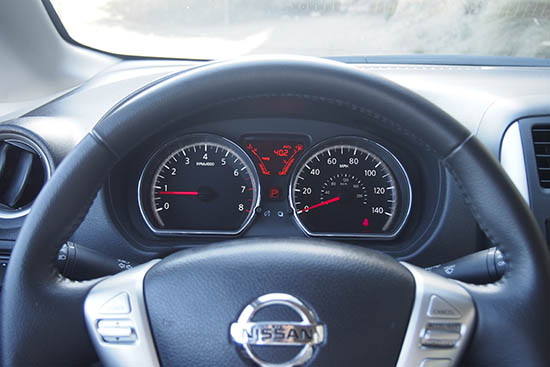 The driving experience was pretty familiar. After testing
both the Cube and Versa sedan a while ago.
Same quiet engine . Same lack of power.
It just doesn't go anywhere when you
push it. It just gets noisy. And the CVT isn't helping…
A manual would really make things a bit more fun, but it is
standard on the base model only. Which means black interior only and one option;
alloy wheels.
So after a while, you're not even trying anymore. And things
are actually better. It is a slow car. And there is nothing you can do about
it.
Mileage is rated at 31/40. The best I could do in the city
was 28. I could never get 31 no matter how slow I was driving. But I had no
problem getting 43 on the freeway at steady speed.
It is fine most of the time, around town, or cruising on the
freeway. But getting up to speed on that freeway takes a while. Or passing.
I guess most people actually don't care much. Since cars
other slow cars like the Prius are everywhere.
Once up to speed, it is really quiet. The steering feels pretty artificial, but I got used to it after a while. At least it is precise. And the
on center feel is pretty good on the freeway.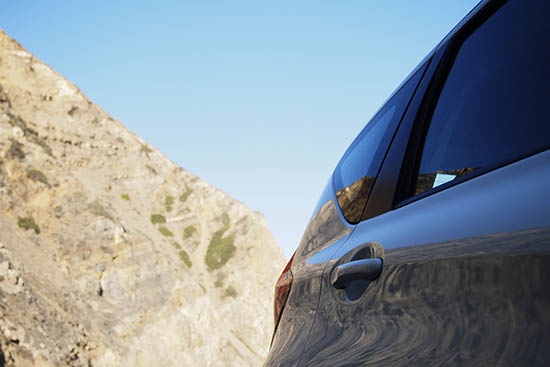 My SV model had just one option. A $540 Convenience package.
Which added small things like a rear armrest, USB input etc.
You can get a more expensive SL package, or GPS. But you
cannot get a sunroof, or leather.
I actually liked the Note. Once I was OK with it being slow.
It is comfortable, very roomy, quiet and doesn't feel too cheap.
The car I had was $17 320. Which seems to be fairly reasonable.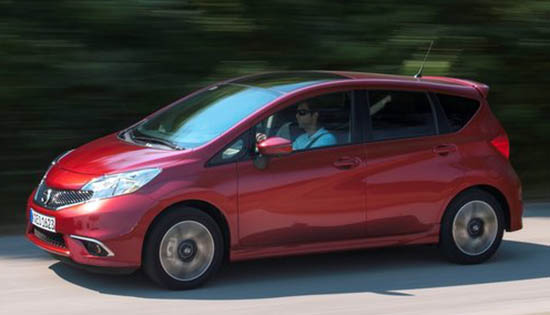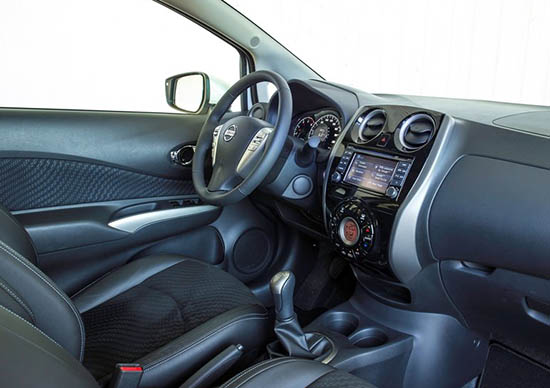 FYI, this is the European version. With the glass roof
option, and nicer dashboard.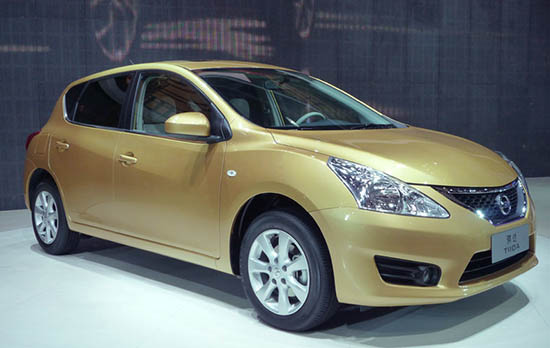 And this is the Tilda Hatchback. The "real" Versa Hatch.