Audi A8 VS. Cadillac CT6
Last Updated: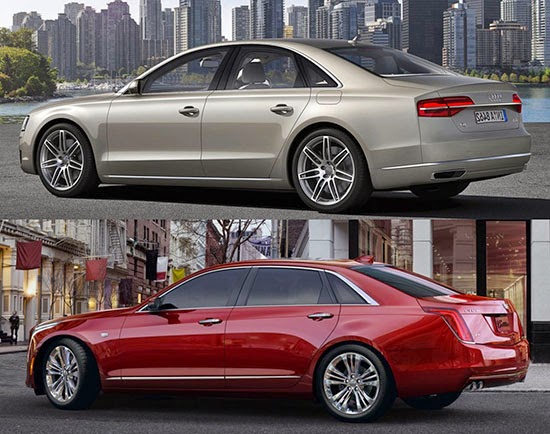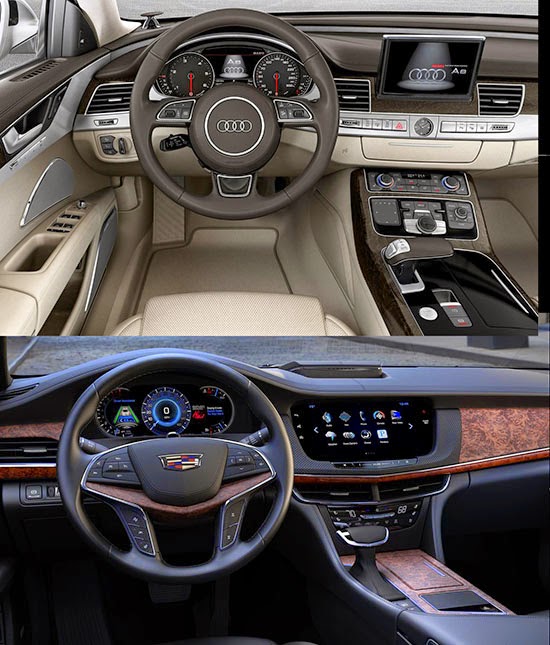 First, let me apologize for picking on the CT6 so much. I do liked GM and Cadillac.
But really, I was expecting so much from their "top of the line" model. Especially after all these amazing looking concepts.
Needless to say, I am very disappointed . So there.
I am comparing it to the A8 for 2 reasons. They both have that 3 windows side design.
And, so far, I never really liked the A8. I thought it was always the most boring looking choose in a luxury sedan.
Until now. Until I saw the CT6.
I mean look at both cars. The current A8 came out in 2009 and it looks more modern than the "not even out yet" Cadillac.
The difference will be even greater when the next A8 comes out. (Unless Audi ruins it like they did with the Q7)
But inside, I must say, I do prefer the Cadillac.
It's not a matter of color. ( I couldn't find an official shot with a black interior for the Audi)
But I really hate that big "brush metal strip" Audi is using more and more.
(It is even worse in the new Q7 and upcoming A4) I mean the whole thing almost looks like a mess.
So basically, I'd rather be inside the CT6.
(Maybe you could keep your eyes closed until you get inside your car ?)
It will also depend on price.
If the same crazy guys who decided the ELR is worth $75 000 are in charge of pricing the CT6, they are in trouble.
The slow selling CTS starts at about $40 000 (After a price drop their new CEO said would never happen)
So this could maybe start at $50 000. Or $55 000 at the most.
If they think they can demand the same $74 000 as the Audi A8, all I can say is: Good luck…