Cadillac CT6 PHEV
Last Updated: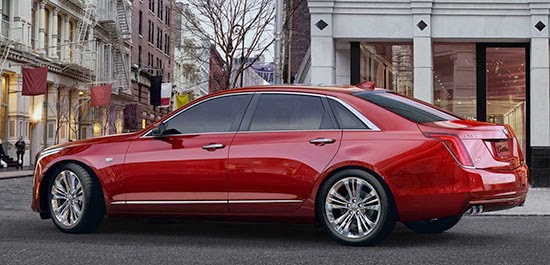 Cadillac has introduced a plug-in hybrid of the new CT6 sedan.
This is one model introduced in China we are getting for sure in the US.
It has an all electric range of 37 miles. (Which is pretty good, since the S-Class hybrid gets about half)
And a total power of 335HP. With a 2.0 Liter Turbo engine.
It all sounds pretty good.
It was introduced in Shanghai by Cadillac's new obnoxious boss Johan de Nysschen.
The same guy who was putting down the Volt a while ago, while he was working for Audi. By saying: "No one is going to pay a $15 000 premium for a car that competes with a Corolla. So there are not enough idiots who will buy it".
He is now selling us that similar technology in a Cadillac.
By the way, I am posting this "new" pic of the CT6. (At least new to me, I had not seen it before)
I think from that angle, this car looks terrible. And cheap.
I really wanted to like it a lot. But this makes the conservative 6 year old A8 look futuristic.
I just cannot imagine this really competing in that same class.
I wonder how many idiots De Nysschen will find this time around.