Is Sergio Marchionne killing Chrysler?
Last Updated: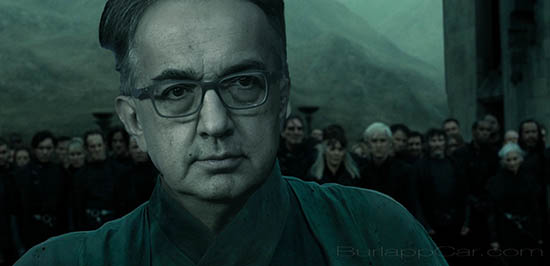 I like Fiat.
I really like Chrysler. (Poor old Chrysler. You have to feel bad.)
After a string of dead beat owners, they now have this guy…
His recent comment sound like bad news to me.
First, he's been trying to force some stupid alliance with GM. Over and over.
Even after they said "no way" repeatedly .
Then, just a few days ago, he blamed the designers (The designers!!!) for the Chrysler 200 inability to get a "recommended" rating from Consumer Reports.
By saying :"The Sonata has a similar problem (rear seat entry), we copied the entry point of the rear seat, dummies"
Therefore insulting both Chrysler and Hyundai designers.
So I guess he, the big boss, had nothing to say about it while it was being designed, tested, re-tested. Checked, re-checked…. He just wasn't around…
Now he is also "realigning" the North American production capacity.
Which means more (only?) pick ups and SUVs, and killing the Dodge Dart and Chrysler 200.
The Dart has been poorly received since it came out.
But not the 200.
He also keeps saying crazy stuff, like he's going to find a "partner" to produce these 2 models. (The ones he is canceling??) Where? Who?
Does that mean we will be getting Darts and 200s from China soon?
(The assembly line where the 200 is built will soon being converted to built pick up trucks.)
So basically, he is giving up on cars all together. Since we hear nothing about a new Chrysler 300.
And he is killing the 200 and won't be replacing it.
Soon Chrysler will only have one model: The new pacifica Minivan.
And Dodge will basically have nothing.
Amazing how pretty much everyone else has now figured out how to generate money from successful compact and mid sized sedans .The market is far from dead.
(Camry, Accord, Fusion, Sonata, Optima, Civic, Corolla, Focus, Elantra etc…)
It looks like he is trying to kill both Chrysler and Dodge and put everything into Jeep and Ram trucks.
Which is really sad…
As for the "always late' Alfa Romeo return to the US?
After all these promises of an all new full line up, now we get more bad news.
Although the Giulia will go in production in a couple of months (I guess it was too late to kill it), it won't be joined by the larger sedan they were talking about any time soon.
Instead, we'll get even more SUVs. One in 2017. And more later.
So basically, Chrysler's future is trucks, trucks, trucks. And probably NO Chrysler.
Sorry about the rant.
Marchionne might actually be a nice guy to have a beer with. But his short term vision for this great old company is a disaster.
Claiming that low fuel prices are "permanent" is idiotic.
He also uses the word "permanent" to describe the "shift towards SUVs and pick-ups".
If there is one thing car companies need to learn from the past, is that trends do not last forever.
Putting ALL your eggs in the same basket is a huge mistake.
Someone with such short sighted thinking should never run a car company.
Or anything else.
One more time, Chrysler is on the verge of death…. Because of one guy.