Nissan Sentra test Drive
Last Updated:
The current Sentra has been around for about 3 years now. So this year, Nissan gave it a fresh face. And a few small changes.
So it's basically the same car. It still looks OK. Like a small Altima.
I have to say, that design does work better on the larger sedan. The Sentra looks a bit bloated.
I remember when the previous generation looked like a small Maxima. Which wasn't the best idea either…
But it looks fine. And actually a bit upscale for its class and price.
Inside things are mostly the same. The biggest change is the new console.
It does look nicer. Most of the fake metal trim is gone. Replaced by a more convincing piano black plastic.
The steering wheel is also new.
The back seat is roomy. Especially for its class (It is technically a mid-size car)
But still not as giant as the Jetta's.
My SL model was pretty loaded, and had leather seats. Which did look very nice.
BUT….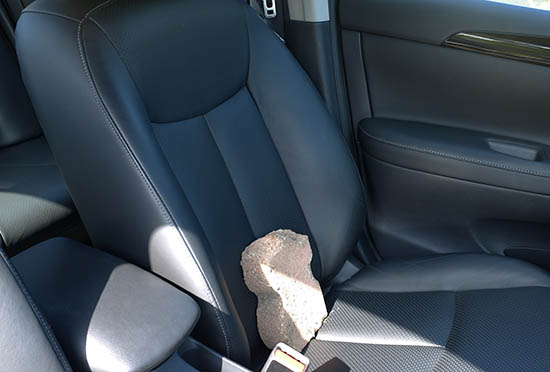 This is what they actually felt like when you sat in them. Well, mostly the driver's seat.
It always felt like there was something sticking out from the lower back portion.
And it is really, really bad.
That was with the lumbar support on its lowest position.
On top of that, the seat was way to high for me. Even in it's lowest position I felt way too close to the ceiling.
It was like a "forced SUV feel". Which I don't like. At all.
It made me feel like a giant driving a clown car…
The screen feels is very hard to use during the day. (At least here in L.A where it is sunny most of the time) As you can see on that picture.
The graphics look pretty old and low tech.
And there is no Apple Car play. So you rely on the Nissan system. (Which is fine, but looks a bit old.)
The one that kept asking me to update my music library every single time I plugged in my phone.
Every-single-time….
Otherwise, the stereo sounds good. But not really good enough for a Bose.
The Sentra feels very solid and comfortable.
It is also quiet. But only when cruising.
Every time you want or need more power, it makes quite a bit of noise. And you keep waiting for that extra power that will eventually, never show up.
Things are a bit better in the Sport mode. The car does feel punchier. But also noisier, since all this does is keep the engine revving higher.
The Eco mode is basically useless. Since I only saw a gain of 1 or 2 MPG while using it.
But you loose almost all of the little power there is.
It actually makes it almost dangerous to drive. (Just like the Eco mode in the Leaf)
The Sentra is rated at 29/38MPG.
I did get around 38 on the freeway.
But there is no way to get 29 in city driving. It is just impossible.
I averaged about 23. And couldn't reach 25 in Eco mode.
The Sentra is a pretty invisible car. Which is fine for most people.
But the current model is against all new players, like the new Civic, Elantra, Cruze etc…
I am not sure it offers anything more than any of its competition. It's not the roomiest. It doesn't get the best mileage. It's not the best looking, or the most fun to drive.
It is for people who just "want a car". I guess.
My SL model starts at $22 170. And was loaded for $25 545.
Click on the picture above for more details about the car I had for the week.
Do it. It'll make you feel good.
You might even get a little bit of that "Burlapp Magic".