2017 Infiniti Q60 price.
Last Updated: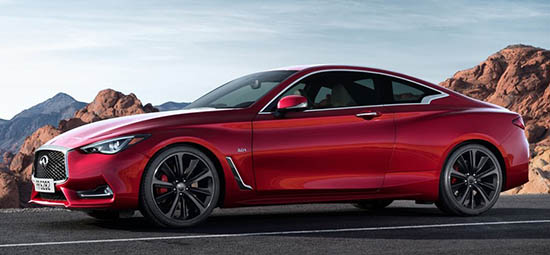 The all new Infiniti Coupe will start at $38 950. For the 2.0 Liter Turbo version.
(basically $40 000 after transportation)
Which is about $4000 more than the Q50 sedan it is based on.
Infinitis are just fine, good cars. And the coupe has always looked pretty good.
But they really do not have much of an image in the luxury car market.
Sad but true.
So let's see how it compares to its current competition:
-The BMW 4 series coupe starts at $42 845
-The Lexus RC 200T starts at $40 945
-The new Audi A5 (AWD only for now) starts at $42 150
-The new Mercedes C class Coupe starts at $43 575
Not sure what comes standard with the Infiniti, but they usually give you a bit more stuff than the Germans for the base price.
Still. It is not that much less than the competition.
Yet it has none of the prestige. And it doesn't have the super reliable reputation of the Lexus either.
I don't think the new Q60 will change much for Infiniti.
Their coupe will still mostly be invisible in the market place. No matter how good it is.
I think the only thing they could have done is come up with an amazing, stand out design.
But they didn't….