2018 Honda Accord
Last Updated: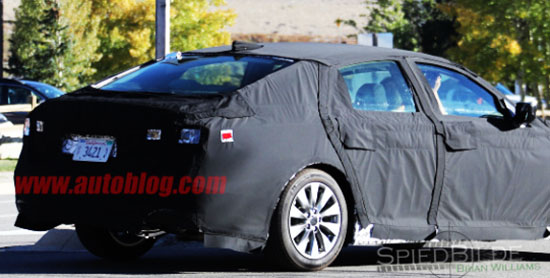 Or: "Another sedan that looks like a hatchback but isn't"…
Just like their Civic sedan.
So I guess the whole thing will be a bit more aggressive. Slicker.
Still, why not be a bit gutsy and offer a real hatch?
It already looks like it has one.
Mid size sedans sales are dropping every year. They need something.
With the popularity of SUV's, people are getting used to the practicality of a hatchback.
I am sure the market might be ready to introduce more hatches in cars.
It already seems pretty popular in compact models like the Focus, Mazda3 etc…
Even Honda now has a hatch version of the Civic.
So why keep designing "fake hatchback" sedans???
Maybe hatches could revive sales of mid size sedans? A bit?
Ford and GM already have hatchback versions of the Fusion and Regal in Europe.
I think it would be a gutsy move from Honda and Toyota to offer the Accord and Camry with a hatch in the US.
But.. Who am I…
For many more pictures of the all new 2018 Honda Accord, just head over HERE to Autoblog.