Chrysler near death. Again….
Last Updated: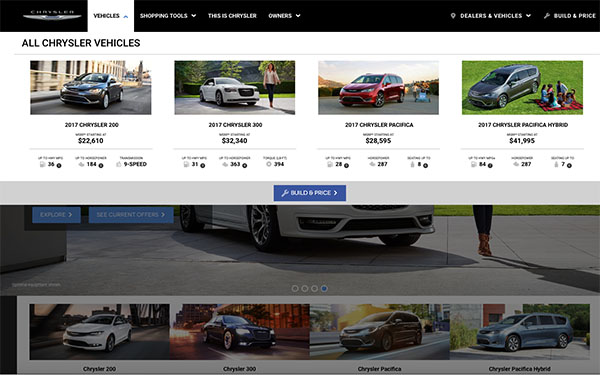 I know, it has happened before. many times.
But check out the Chrysler.com main page.
-All you see is the Chrysler 200. Which is already dead.
They stopped building it a while ago. But it's still there…
They still managed to sell 57 294 of them last year.
And 178 000 the year before! (That's what some advertising money does…)
No bad at all. Then, Marchionne announced he hated the car and was
stopping production.
-The Chrysler 300 sedan. The current generation came out in 2011.
So it's already 6 years old. Most of the competition has been redesigned.
From what Chrysler is saying, a new one (If that ever happens) is still a couple of years away.
They sold about 53 000 of them last year. (Which isn't bad l for that segment)
-The pacifica Minivan. Gas and Hybrid versions.
The one bright spot. Showing Chrysler can still compete in one segment.
So they basically have only 2 models.
I don't really know any other main stream brand with only 2 models for sale currently.
Mitsubishi maybe?
What is going on???
I thought the original idea of blending Chrysler for the US market and Lancia for Europe was pretty good.
But no. That idea got killed.
Just like any new product. (Except the minivan)
What do you think?
Have you heard of any new product for Chrysler???
Maybe Peugeot should buy it and sell us Opels and Peugeots under the Chrysler name?