While Chrysler is dying, how is Dodge doing???
Last Updated: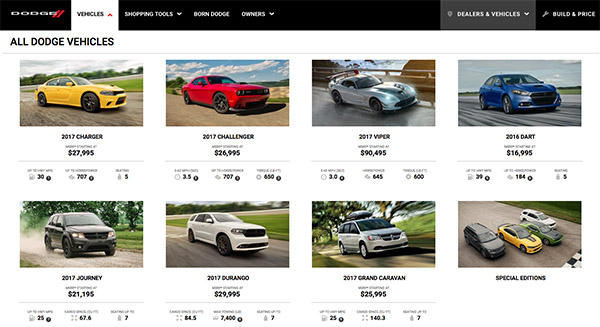 Guess what? It's dying too!
Thanks to Sergio "car brand killer" Marchionne.
Look at their line up!
Already 3 out of these cars are dead. They're only selling dealer left overs. The Dart, Grand Caravan and Viper. All dead.
And what's left is in a retirement home. Let's take a look at these poor souls:
– The current Charger came out in 2011. So it's already 6 years old.
(All we've see lately is super powerful muscle car versions with too much power and stupid names.)
The keep floating around rumors about a brand new one using the Alfa Romeo Giulia platform. Maybe in a couple of years
Sure. Right….
Since all development money seems to only go to Jeep and Alfa SUVs, I don't think we'll ever see a new Charger.
– The Challenger is now 9 years old!
Sure, it still looks good. But almost 10 years!
(Also, Ford sells about twice as many Mustangs every year.)
Same thing here. More and more powerful engines. That only very few people will ever want.
Nothing new.
And again, the tease of a new one "soon". They even floated the rumor of a smaller/cheaper Barracuda model coming out soon. Coupe and convertible too!
They even showed prototypes to dealers a while ago.
Of course Sergio will show cool prototypes to dealers and great stuff coming "soon".
A classic con. Otherwise how many would keep a Dodge franchise these days if they knew for sure nothing new is coming…
– The Journey. That poor thing never got really good reviews when it came out.
Back in 2008. Again, almost 10 years old!
Again, no replacement in sight.
-The Durango, that poor guy. This has actually got pretty nice reviews when it came out.
Which is 7 years ago.
I think it still looks good. And with an SUV crazy market you would think it has a chance.
They sold about 68 000 of them last year.
(while Toyota sold over 190 000 Highlanders…)
The whole line up is sad and old. Every single model is about the worst choice you could make in their respective categories.
An only vague rumors about their future.
I will say it again, I think Crazy Sergio is just out to enrich himself and the stock holders. And kill Chrysler and Dodge. Just like he did with Lancia.
Trying desperately to dump the whole thing onto another brand while profits are good and make a few millions.
A sad story…