Buick Regal test drive.
Last Updated:
The new Regal is a really nice looking car. Better "in the flesh" than in many pictures I have seen of it.
The hatchback is kind of concealed. The design could look like one of these fastback sedans with a tiny trunk opening, but it is not.
I have read quite a few criticisms about the interior quality in other reviews.
I had no problem with it. All the plastics seem fine and everything is solid.
There are plenty of soft touch materials around.
The high console gives the interior a rather sporty feel. Which is nice.
Another very nice touch is the obvious volume knob right in the middle, bellow the screen.
Where is should be in every car.
The Bose system sounded great.
But. I had a terrible time connecting Apple CarPlay. Actually, not just CarPlay. The car almost never recognized my phone. Even when using the regular Buick InteliLynk system. ( after trying different cables)
I could only play music from my phone in Bluetooth mode.
Which is OK, but not nearly as convenient (and safe) as CarPlay.
It would work for a minute or two, then disconnect…. (I was not able to resolve the problem or figure out if it came from my phone …)
The seats look great and are quite comfortable. But the headrests are pretty hard and flat.
And they don't tilt forward at all. (Most cars don't have that feature anymore, which is too bad)
The rear seat is very roomy. Even surprisingly so.
The car is very well finished all around. Although the wood trim is not very convincing . But there isn't that much of it around…
The best part of the design is the hatchback.
Which literally turns the car into something you could sleep in. ( A great camping companion without getting an SUV)
That hatch is actually pretty heavy. And, at least on my car, not powered.
The first thing I noticed was how quiet the car is. You barely hear the engine even when cold. And it becomes "Lexus quiet" soon after. A really super smooth engine. Even when pushed.
And there is always a lot of power available at any time.
Which makes the car a lot of fun to drive.
The steering is pretty light but very precise and never sloppy. Just perfect for this car, I thought.
The 9 speed is quite amazing. One of the smoothest automatics I have ever experienced.
And it is always willing to downshift at the slightest input from your right foot.
(Which is a good thing since the car is already in 7th gear when cruising around town at 35MPH )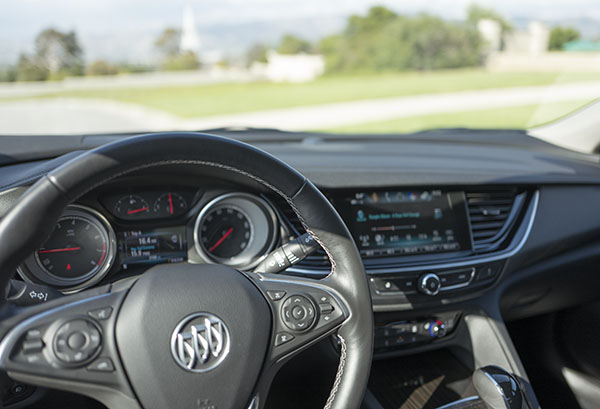 Buick claims 22/32 HWY. I could never actually get 22 around town (Even in that 7th gear)
More like 18/19.
But easily got 37MPG on the freeway. (Where it is doing 1500RPM at 70MPH)
The Regal comes with an engine stop/start system. I usually hate these.
But in the Regal, it is really not intrusive at all. And you pretty much forget about it very quickly.
A small side note. Years ago, I tested a Nissan Altima Hybrid. And was amazed to get 38MPG on one of my favorite drives. (From Hollywood to Malibu. Which is mostly freeway and Malibu Canyon.)
I thought back then 38MPG in a roomy mid size car was quite amazing.
I did the same drive a few days ago with the Regal. And got over 40.
What a difference a few years make. Instead of a rather slow hybrid, I was driving a fast 259HP car. (Of course that Altima was doing much better around town..)
Except for phone/music connection glitch, the new Regal is a great car, and a pleasure to drive.
The starting price of $25 000 is really good. Since you are getting a car engineered and actually built in Germany. (One could argue it is much more German than our US Passat. Or many other "German"cars sold here).
You are also getting the more powerful 259HP engine standard. (An option on the Accord, 2019 Altima and Mazda 6)
The Regal is a great driving car, with a super smooth luxury car ride. And a very powerful engine.
Everything works great and really provides a true driving pleasure.
But my top of the line Essence model was quite pricey.
At $35 600 (With options) , it still didn't have a sunroof.
Or the cool head up display I had in the Mazda 6. Or heated rear seats. The rear hatch should also be powered for that price.
The Mazda was actually a bit cheaper and had all that (Except a power hatch of course)
But the Mazda also had the base engine. Which has much less power. And cannot compete with the smooth, quiet and refined feel of the Regal's 2.0 Liter. (Far from it)
As usual, you can click on the picture above to read everything about the pricing of the car I was driving for a week.
I really enjoyed my week with the new Regal. It should be on the list of anyone who is looking for a mid size sedan.
A more unique choice (German made, hatchback) among the usual players in that field.
Just make sure you choose the version that fits your needs. Since the top of the line one isn't actually loaded.