2019 Mazda CX-5 Turbo: It's official !
Last Updated: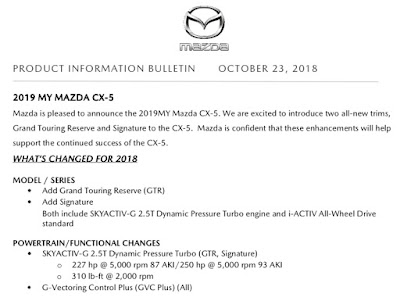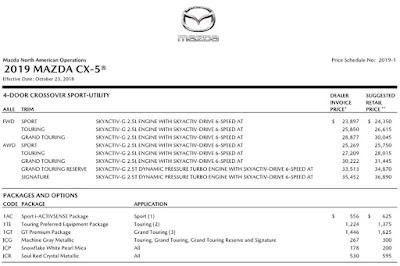 Click on these 2 pictures above to read the official info and pricing of the new 2019 Turbo versions of the Mazda CX-5.
The new engine will only be offered in the "new for 2019" Grand Touring reserve, and Grand Touring Signature versions.
(It doesn't seem to be an option on other less expensive versions.)
So the least expensive Turbo version is $34 870. Or about $3400 more than the previous top of the line Grand Touring model.
On top of the Turbo, the Grand Touring reserve adds heated rear seats, something called "Active traffic display". Heated steering wheel and cooling front seats. And auto folding mirrors.
So you're not paying $3400 just for the Turbo.
In my daily use for a week, I never needed more power. But I guess some people do.
The interior quality and road manners really compete with more expensive SUVs.
And now with 250HP, even more so. This is getting really close to the Acura RDX.
And similar, more premium models.
Mazda seems to be on a roll.
( I cannot wait to see the new Mazda3 in person next month at the L.A Auto Show)