2020 Kia Telluride pricing.
Last Updated:
The all-new Kia Telluride was one of the biggest news at the recent Detroit auto show.
It will compete in a very popular segment right now. And today we know how much t will cost when it comes out in the spring.
The base model will start at $32 735.
Which is just a couple of hundred dollars away from the Toyota Highlander, Honda Pilot, and Subaru Ascent.
The S version starts at $35 035 and includes a sunroof, heated seats etc…
The EX version starts at $38 135 and includes leather among other things.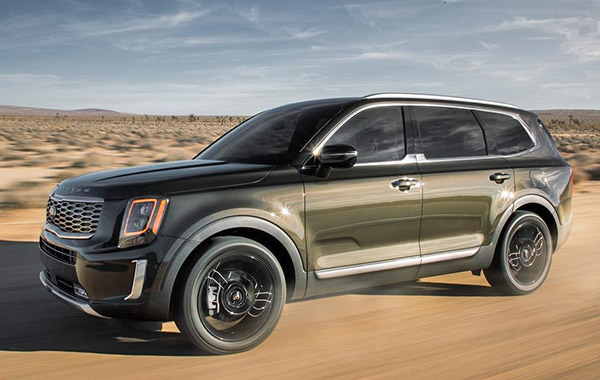 The top of the line SX version is the one pictured here (And used in all official photos of the car)
It will start at $42 535 and includes LED fog lights, these black 20-inch wheels, dual sunroofs and more.
Wait, there is more!
You can also order a super luxurious SX Prestige package option for $4000 extra.
Which includes AWD, Nappa leather, cooling seats etc… basically everything you would ever want.
Thes are not bad prices when compared to the competition. As this is a big SUV.
Unlike the Highlander or Ascent, it comes standard with a big 3.8 Liter V6 with 291HP.
I know some turbo 2.0 Liters can match the power, but rarely match the smoothness and luxury feel of a big V6.
The Telluride is actually priced very close to the smaller V6 version of the Sorento. (Starting at $31 300)
Which also seats 7.
(The Telluride seats 7 or 8, depending on which version you pick)
So it looks like the Sorento might be on its way out?
Pretty much everyone offers some big 7 or 8 seater SUV these days.
And they are all at least pretty decent.
The Chevrolet traverse I test drove a while ago was a very nice drive. But the loaded RedLine version I had was priced at over $50 000.
Which is more than the super loaded Telluride SX Prestige.
I think Kia could have quite a hit on their hands with then newTelluride…