More pictures of the manual version of the new 2020 Mazda3 hatchback.
Last Updated:
I really like the design of the new Mazda3 hatchback.
It is one of the most modern and clean looking hatchbacks available right now (soon)
And I love the fact that Mazda is still offering it with a 6-speed manual.
But now, for a quick reality check…
Here are a couple of pictures of something you will probably never see.
The manual in a new 2020 Mazda3.
As usual, dealers will probably not get them at all. Or a couple of them here and there.
So it will be nearly impossible to find one. You would most likely have to order it. Which probablymeans paying full price.
(While you'll be able to get deals on an automatic soon after the car comes out)
As you can see on the price list above (you can click on it)
While the hatchback starts at $23 600, the manual is not available in a base version. So it starts at $27 500. Which becomes really expensive for a compact car. (although at that "Premium package level" the manual and automatic are priced the same)
But, it is also exactly the same price as a VW Golf GTI, with 228HP.
While I am sure the new Mazda3 hatchback is very nice, it is no GTI and should really not be the same price.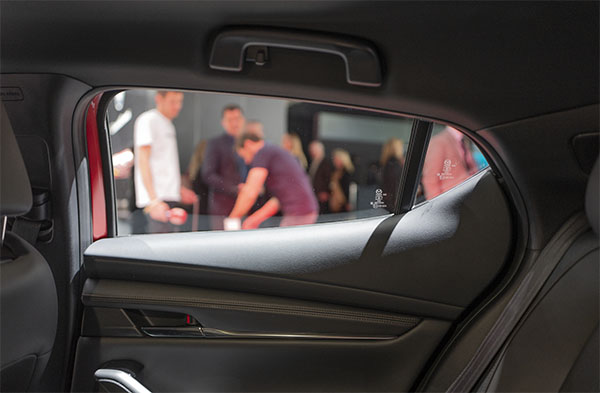 Another reality check on the hatchback is the outside view from the rear seats.
While the car does look great, it is basically a 2 seater with a huge trunk.
(I guess that's why they have the sedan version anyway…)
A $23 000 manual would have been nice…