The $35 000 Tesla Model 3 is finally here!
Last Updated: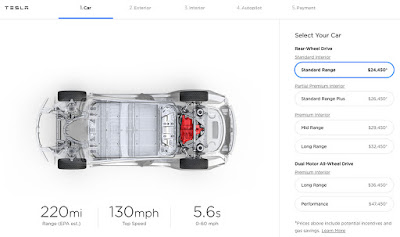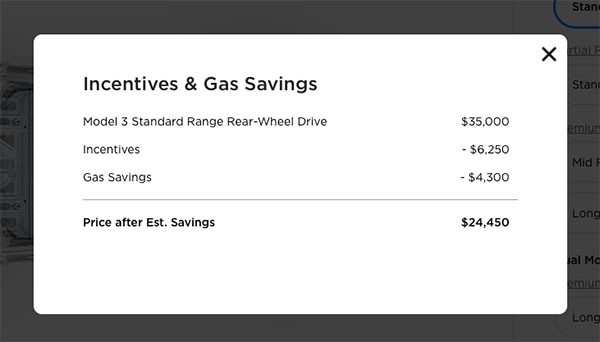 Yes, it is here.
Even though, as you can see from the screen grabs above (you can click on the top one) Tesla still use a misleading way of including "gas savings" as well as incentives to suggest an actual cost of the car.
Incentives are mostly disappearing, and they vary state to state anyway…
Still, at $35 000, this car has a 220 miles range. it is super fast and does include the glass roof.
Which is actually many steps above anything else for the price.
Since the Bolt starts at about $2000 more.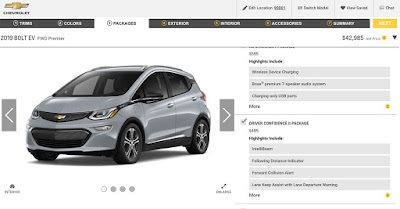 As you can see here, a Bolt Premier with an upgraded stereo and a couple of packages reaches almost $43 000. (It starts at around $37000, which is still more than the base Model3)
For less money ($40 000), you can get a Mid-range model 3 with a 264 miles range the Premium interior option.
I drove the Tesla Model 3 for just a few minutes a few weeks ago. And, while I really like the Volt, there is no doubt that the Model 3 is a superior car.
The Volt is more like an electric Honda Fit. While the Tesla is a few steps above.
Even though its interior is still not up to par with near-luxury models.
The $35 000 model will sure make many headlines. But to me, the $40 000 loaded mid-range one is the one to get.
Things are still not perfect though.
Tesla has a very, very limited choice of colors. And they are all expensive options (Between $1500 and $2500 except for black)
Interior is all black. Expcet for the $1000 option of "Black and white", which looks a bit weird.
And the standard wheels are the super cheap looking black covers.
the more noraml lookng ones are also $1500 extra.
You will not be able to get AM or Sirius radio in the Tesla.
And no Apple Car Play or Android Auto. Everyhting is "Tesla"…
If you are OK with that, I think the newly "almost affordable" modle 3 is a fantastic buy now…