VW ID.3 "First Edition"
Last Updated: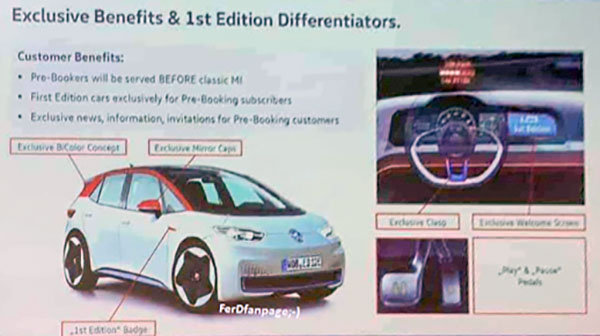 It seems to be a thing these days.
Producing first a batch of "First Edition" models of a highly anticipated car.
A few hundred. Or thousands. With some unique paint combo.
"First edition" badges here and there.
A few (inexpensive) "Exclusive items", and there you go. You can charge thousands more to those who "want it first".
The all-new ID.3 is no exception.
And the picture above shows what that First Edition model will look like.
While showing us the finished car and the interior for the first time.
I think VW did a great job of staying close to the concept.
The interior, of course, is nothing like the crazy minimalistic interior from theta concept.
But it still seems pretty modern. And I see a cool and quite retro giant round speedometer in there.
A nice touch.
(Thanks to a reader for the pic!)