2021/22 Toyota 86/Subaru BRZ
Last Updated: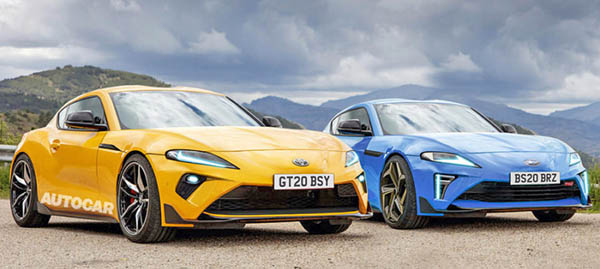 This British illustration shows what the redesigned Toyota 86 and its twin, the Subaru BRZ, could look like.
Both cars are due out in the summer of 2021. (So they could actually be 2022 models.)
Both cars will be available with a 2.4 Liter or 2.5 Liter engine with 255HP. Which would be a big jump from the current 2.0 Liter with 200HP.
It sounds like the engine Subaru currently uses in a few cars. Like the Legacy and Outback Turbo.
The illustration above shows a pretty timid evolution of the current design.
These cars are not selling well at all (only 3400 of the Toyota version last year! Even less for the Subaru) and I really think they need a much more drastic redesign.
Especially inside. As they have one of the worst looking interior of anything on the market these days.
A good design at a good price will sell more. As it always does. Since the cars have been getting mostly great reviews, and they seem to be adding power.
Who knows. It's actually amazing they will get a second generation after such terrible sale numbers…