2021 Kia Sorento: the US version is here.
Last Updated: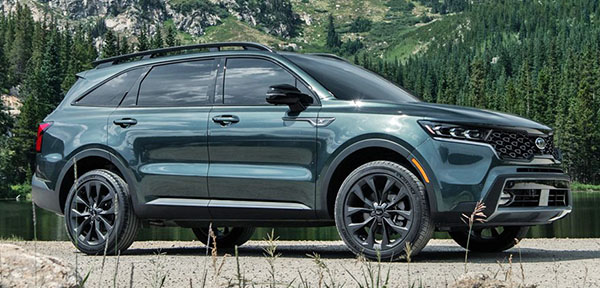 The US Sorento looks pretty much the same as the one sold in other markets.
Although we do get a specific choice of trims and engines.
The trims for the all-new 2021 model are:
– LX, S EX, SX, SX-Prestige and X-Line SX-Prestige (which is quite a mouth full)
– All versions are available in FWD or AWD. Except for the X-Line which ash AWD standard.
Engine choice in the US is:
– 2.5 Liter with 191HP
– 2.5 Liter Turbo with 281HP
– Hybrid 1.6 Liter Turbo with 227HP
– Plug-in Hybrid with 261HP and 30 miles electric range.
This should pretty much cover almost everything.
The new Sorento is just about half an inch longer than the previous version. With a 1.4 inch longer wheelbase. So it is still about 7 inches shorter than the V6 powered Telluride.
Its closest 3-row competition would be the Honda Pilot or Toyota Highlander, both still about 5 inches longer than the Sorento.
The current Sorento starts at about $27 000. Only a small price increase is expected for the 2021 model.
Which is around $5000 less than the Honda Pilot.
Its price and availability of both Hybrid and Plug-in Hybris make the Sorento a unique choice in the segment. As well as its size.
For people who don't really need a 3rd row, this would be a super roomy 5 seater SUV.
At a fantastic price.
Although the base engine might really be pretty weak for the size.
Since this is what usually powers a base mid-sized sedan these days…