Ford Mustang Mach E : big drop in price!
Last Updated: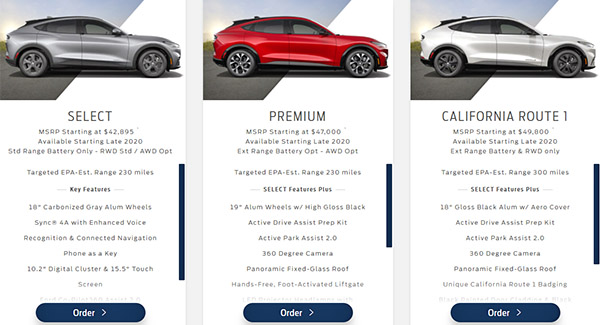 Not sure why, but the all-new Mustang Mach E EV will be cheaper than previously thought.
So far, the biggest drop in price is on the loaded Premium model.
Which is now $3000 cheaper. The Mach E does qualify for Federal and state incentives. Which means it would be $37 000 in California (and other states)
That also means it is cheaper than a basic Tesla Model 3. Not sure why it happened, but this is a great move from Ford.
I was lucky enough to see the Mach E in person. And also spend some time inside. And found the interior to be vastly superior to the Model 3. It is also a hatchback.
You can watch my video of the Ford Mustang Mach E
HERE
. So basically, it is kind of in-between a Model3 and ModelY. While cheaper than both. And probably, much more reliable and better built.
Great news!