2022 GMC Hummer EV: another $100 000 EV…
Last Updated: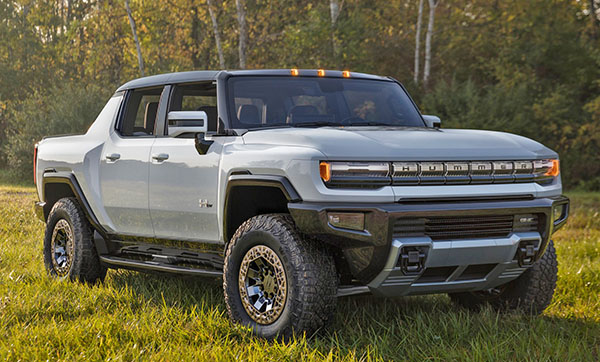 I thought I would compare the new GMC Hummer EV to the upcoming Rivian R1T Electric Pick-up.
Since, I think, the Rivian could be its main competition.
– So far, we know the Hummer will get around 1000HP and a 350 miles range. (A less powerful version will be available in 2024 (!!!) for $80 000)
Prices will start at $100 000!
– The Rivian will get 'up to' 750 HP and a range of 'up to over 400 miles'.
It will start at $69 000.
Both are expensive toys. But I really like the simple and modern personality of the Rivian.
I think the Hummer looks ridiculous. And actually dorky from some angles.
Things are even worse inside. While the Hummer is a paragon of vulgarity, the Rivian looks upscale and simple at the same time. I sat in one last year and I can tell you that interior looks and feels great.
The Hummer interior looks like it could have been designed by some rich 10-year-old spoiled kid on drugs who couldn't wait to use his new ruler to draw something. Anything…
The gold trim everywhere is just atrocious. As is the giant tablet that has to be blocking a third of the view forward.
This is just amazingly bad. And yet, it does fit the Hummer brand. Which was never known for its good taste or classy design.
Sure, you can take off the roof panels for a fake convertible experience. Which is OK.
But the Rivian offers these really nice and useful tents and BBQ options.
Which would be fantastic for a camping trip!
(And you can get a giant panoramic glass roof anyway)
As I mentioned many times before, I am not a truck person. But I do love taking small camping trips once in a while. And the Rivian R1T is actually very tempting. (although still too expensive)
As for the GMC Hummer, I would be ashamed to be seen driving one…