All-new Genesis GV70: finally…
Last Updated: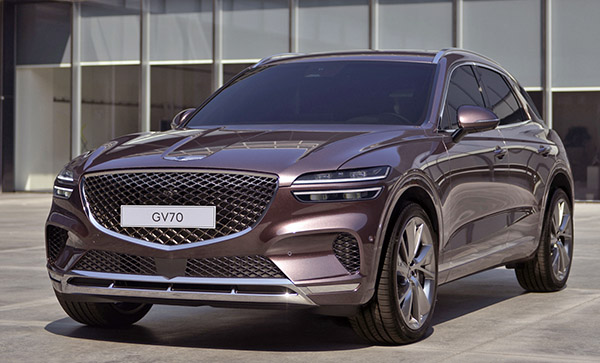 So far, I think this is not disappointing at all. And was well worth the wait.
Even in that weird pink/rose color, the new Genesis SUV looks really good.
Same thing inside. Again, even in that strange "not for everyone" purple interior. It looks like Genesis found a way to design an original yet upscale interior.
(too bad they couldn't figure out how to integrate the screen a bit better…)
The red one is obviously a sportier version. With a slightly revised interior. Including a different steering wheel design with leather/Alcantara seats.
No specs yet. But since it is based on the G70 platform, I would guess it would use the same engines as the sedan. Instead of the ones offered in the larger GV80/G80.
Its success in the US will depend largely on pricing. Over here, its main competition will be the Lexus NX and Acura RDX. Which start at $37 500 and $ 38 200. You could also include the slow-selling Infiniti QX50 at $38 000.
(I don't think German car buyers usually consider anything else. No matter how good foreign competition is. Which is too bad.)
Being brand new, I think Genesis should price the GV70 aggressively. Something like $36 000 would really go a long way to make sure the GV70 is a hit.
More very soon…