Buick Encore GX Test Drive
Last Updated: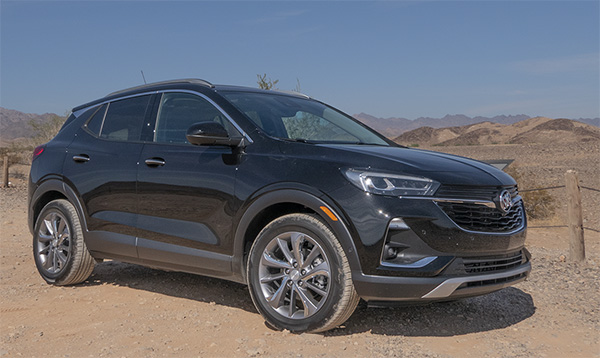 The all-new Buick Encore GX looks very nice in person, inside and out. Since it was designed a few years ago, it still has (at least to me) a bit of an Opel look to it (The previous Encore was sold in Europe as the Opel Mokka)
The proportions are very nice, and it just looks good from every angle.
Same thing inside. Everything looks good and feels really solid and quite upscale (almost every single plastic trim is soft)
The metal trim on the dash is OK, and I would have preferred an interior with more color than the all-black on in my test car, but that's just a matter of taste.
The seats are comfortable but a bit firmer than I was expecting. The headrests are pretty hard and uncomfortable. And they are position too far back to be of any support during long trips.
The stereo in my test car didn't have a "Bose" branding but did sound really good (Apparently the Bose is a stand alone option, somehow not included in my loaded $35 000 FWD version)
The armrest is positioned very high. Which was fine for me. But is not adjustable. Another feature I would expect for the price.
Cooling seats are also not available.
I was also surprised by the lack of a drive mode selector. (Which is available in the cheaper Chevrolet Trailblazer)
The Encore GX is very roomy for its size. There is plenty of room for 4 or even 5 people with a good amount of luggage.
Once the rear seat is folded, there is aslo room for 2 people to camp in the car.
On the road, the 3 cylinder Turbo engine is smooth and quiet. (Almost silent at idle)
The steering is fine if a bit artificial. It feels like it is on a non-existant "sport mode".
Same thing for the suspension. Which is mostly comfortable (especially on the highway) but pretty firm. And can actually be uncomfortable on rough city roads.
Again, the whole thing feels like you switched it to "sport mode". Even though there is no mode dial.
I really think Buick should offer a choice of a "normal" or "touring" setting. A firmer steering is always nice, but the ride is not what I would expect from a Buick. A dial mode would be a very easy fix.
My test car was a loaded Essence model, but didn't have AWD. Which was never a problem. Since this is not the kind of car you would take off-road anyway. And there is no real torque steer problem either.
My car was equipped with the optional 1.3 Liter engine (a $395 on the FWD model), and the CVT (9 speed auto standard with AWD)
The CVT was smooth and quiet. And it is basically a perfect match for the car.
The FWD/1.3 Liter/CVT Encore GX is rated at 30MPG city and 32HWY.
30 is a high number for city driving and I wasn't able to match it. In real-world city driving, I got 27/28MPG. Which is already great. But I had no problem getting over 35MPG on the Highway. (Almost got 40MPG on a long stretch) Which is an almost hybrid-like level of fuel economy for a compact SUV.
I really like the new Encore GX. But at the same time, I do feel it should be tuned a bit more on the luxury side. Since this is what Buick is trying to be (or so it seems)
It really needs a more comfortable ride (Again, a dial mode would give you that choice)
And the seats should be a bit softer and more luxurious.
For $35 000, cooling seats and an upgraded stereo should also be standard.
But, in the real world, these cars usually come with serious discounts. Which would help a lot.
You can price a very nicely equipped model for a bit under $30 000. Before any discounts.
At these more realistic prices, the Encore GX should be on everyone's shopping list if you are looking for a compact, very car-like crossover.