2011 Infiniti QX55: the QX50 "Coupe"…
Last Updated: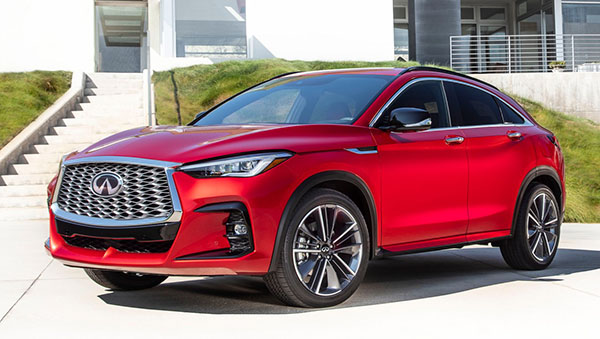 We finally get to see the new 2022 Infiniti QX55. Which is a "coupe" version of the QX50 that came out over 2 years ago. (bottom pic)
As you can see, it is exactly that. Nothing more. It even kept the same huge grille (which looks pretty bad in person… Like most of these huge grilles)
The new QX55 looks a lot like a modern version of the old FX35. Which was a great crossover.
Inside, things are exactly the same as in the older QX50 (bottom pic) Nothing new, except wireless Apple CarPlay.
Which is a shame, Since that Infiniti double screen set up still looks a bit odd. And now, just old…
Apparently, the engine and transmission are the same as in the QX50 as well.
The QX50 has been a giant flop for Infiniti. With only 18 616 sold last year. While Acura sold over 62 000 units of the RDX. I really don't think adding a new version with a different hatchback design will help that much. Most reviews I've read of the QX50 were pretty bad. Criticizing the engine and CVT. Which has not been changed.
I think this could become very good example of "too little too late"