2022 Honda HR-V: that's it…
Last Updated: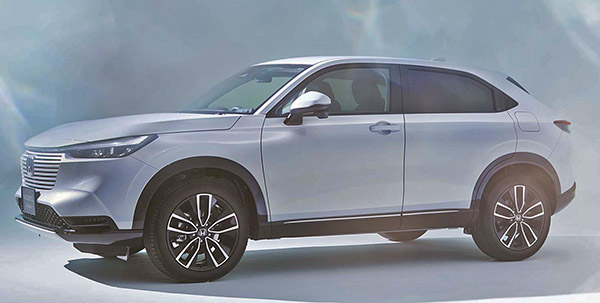 Well, this is a bit disappointing. After test driving the current version a while ago, I have to say the current HR-V is a good car. Roomy, quiet, comfortable. Not very quick, but who ever buys these to go fast??
Since I've posted so many spy shots of these over the past few months (and received so many insults just because "this is not the next HR-V!!!", I was expecting a bit more.
Sure, the design is pretty clean. No fake air intakes under the lights. No weird scoops and spoilers. This is much cleaner.
But it also seems quite uninspired. Much more generic than the current generation. And not as cute.
Same thing inside. Except it's now actually much busier than before.
And of course, there has been no effort to incorporate the screen into the design. So now you end up with what looks like a cheap Pep Boy after market tablet stuck on the dash.
I guess Honda is proud of the vents though, since they published a full picture. (Instead of showing us more of the actual car) The "vent designers union" must have pulled some strings. (Good for them)
The double sunroof is really cool. But I really doubt it will make it to the US.
And you know what else will probably not make it over here? The cool hybrid powertrain.
With a total of 202HP from a 1.5 Liter engine and the electric motor. Wouldn't that be nice…
Let's hope the interior of the 2022 Civic is better than this. It should be, since it is a more expensive model. But you never know… The lure of saving a buck is a very strong one.
From what we have seen, it could end up a bit similar.
It seems dangerously close. The stupid tablet looks the same. Door handle and trim seem quite similar too. Same shifter.
But those vents look a bit fancier. Looks like 2021 is the "year of the vents" at Honda.
They'll be going full speed ahead on vent designs…