2022 Mercedes C-Class: new pix…
Last Updated: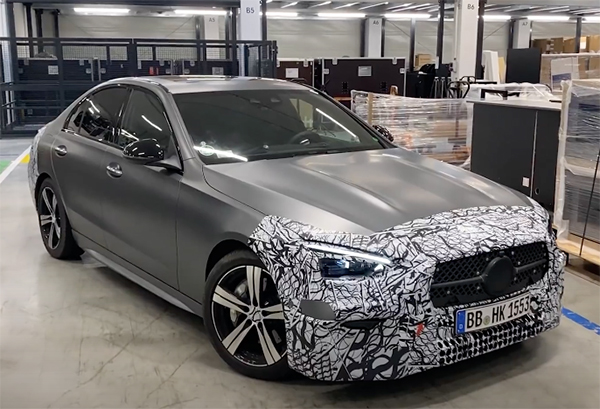 Surprise! The next Mercedes C-Class will look like a cross between the current one and the new S-Class. Keeping a long tradition of not looking "too new" alive and well.
Same thing inside, where it might end up looking like a small S-Class. With a large center screen and another one behind the steering wheel. The rest of the interior seems nice and pleasant.
It's always weird to me to see these screens behind the wheel trying to mimic the look of real dials. Why? They are not fooling anyone. They never do, no matter how sharp they are. It's just weird…
Outside, things look much cleaner. Almost to the point of zero personality. I guess being a smaller version of something else could be considered a personality. Maybe.
Not sure where the small luxury sedan is headed these days. The Germans aren't giving up. Tesla is selling tons of Model 3. (Is it Model 3s?)
So people are still buying expensive small sedans with a trunk sticking out. I'm not sure for how long. Between "regular" sedans getting so much better, and EVs, they seem to be squeezed. The last Mercedes C-Class I drove a few years ago didn't feel better than the loaded Honda Accord I had a few weeks earlier. And people seem to want more and more Teslas. No matter what shape.
I wonder when the small luxury sedan will finally re-invent itself. Or if Tesla already did it…