2022 Hyundai Ioniq5: European pricing…
Last Updated: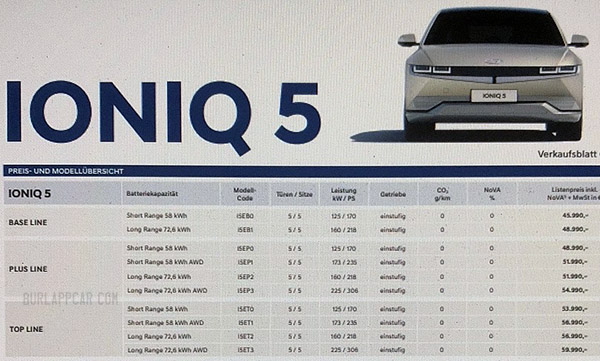 This is the official pricing for the new 2022 Hyundai Ioniq 5 in Germany.
Which, at least over there, will come in Base, Plus, and Top versions.
The base model is available in Short or long-range, but no AWD.
It looks like Long Range adds about 3000 Euros. Same for AWD.
And the base model starts at 46 000 Euros.
As far as I could find, the Base short-range Tesla Model 3 starts at around 40 000 Euros in Germany.
Instead of $37 500 in the US.
While the long-range Model 3 is priced at 50 000 Euros. Which puts the base Inoq 5 right in between.
The equivalent in the US (in-between the base and long-range Model 3) would be $45 000.
But that is just following the logic of Hyundai pricing the ioniq5 the same in the US as Germany.
Which they might not do… (Let's hope they don't)
This would put the base Ioniq5 about $10 000 more than the new Bolt EUV. And even $5000 more than the new VW ID4. Which would be terrible for the Ioniq5.
Most people looking for an EV will get a Tesla for the same price. The only way anyone can compete is by being cheaper.
That's why I think the new Bolt does have a good chance, being so much cheaper.
But a Hyundai for $5000 more than a Tesla would have zero chance.
Even if they claim it competes with the Model Y and not model Model 3. (As it doesn't look like an SUV at all)
What do you think?