Honda Ridgeline test drive.
Last Updated: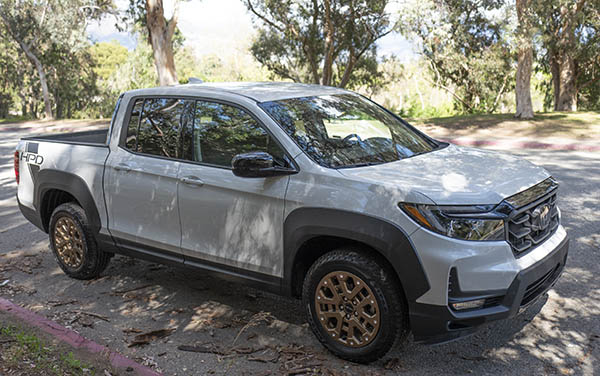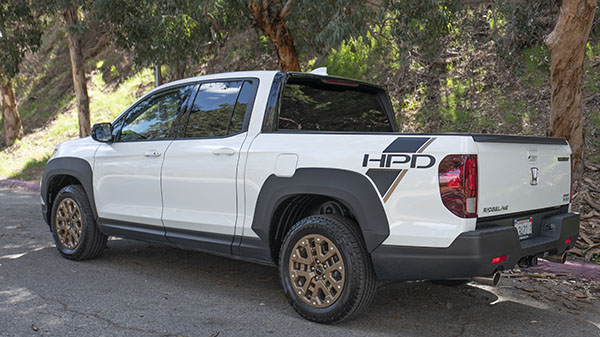 The Honda Ridgeline just got a serious "shot of Macho" for the new year. With a new, larger, and more aggressive grille.
The changes are more obvious when you order the new HPD package. Which adds a different grille, tons of black plastic trim all around, decals and badges. And the bronze wheels you see pictured above.
I'll just be polite and say that none of this is for me. Especially since the HPD is just a visual package with otherwise no improvement to the driving experience.
My test truck was a base model with the HPD package for a total of $40 500.
(more on pricing later…)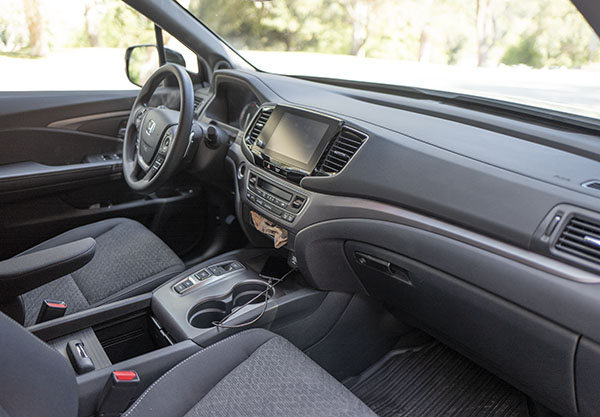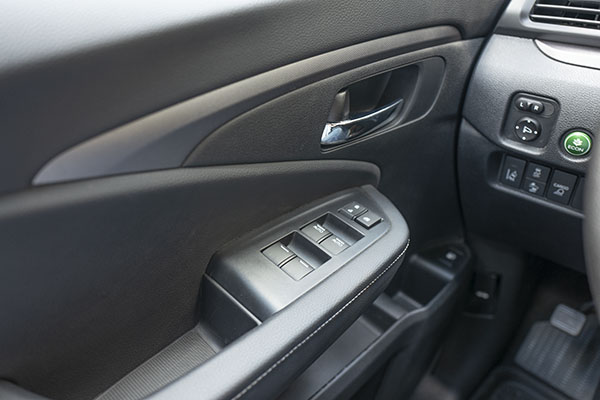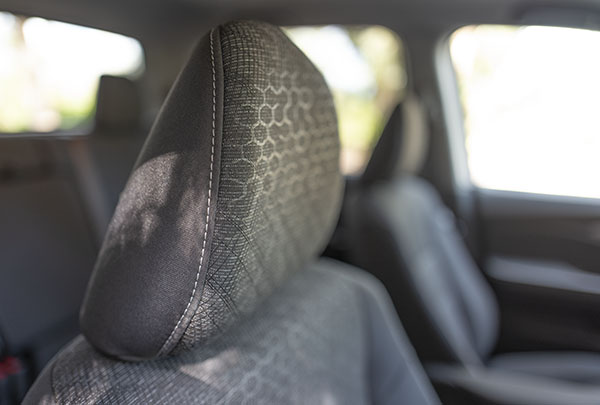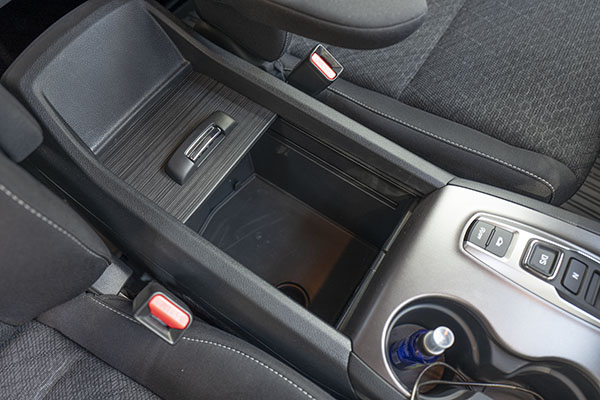 The interior of the base model (Even with the HPD package) seems pretty basic at first. But, in true Honda fashion, everything feels super solid and well put together. The doors even have a luxury car sound when you close them etc… But that plastic steering wheel does feel pretty basic. And the cloth seats would feel at home in the cheaper Honda Fit.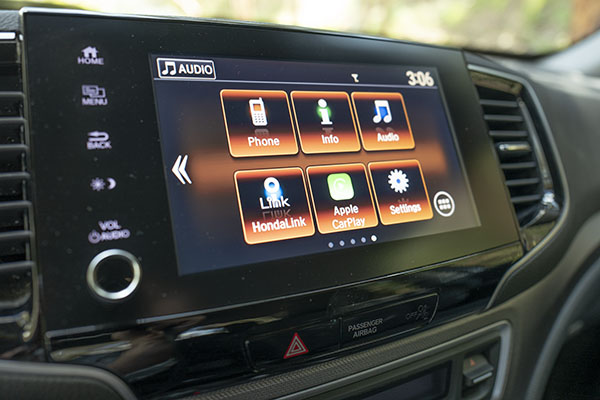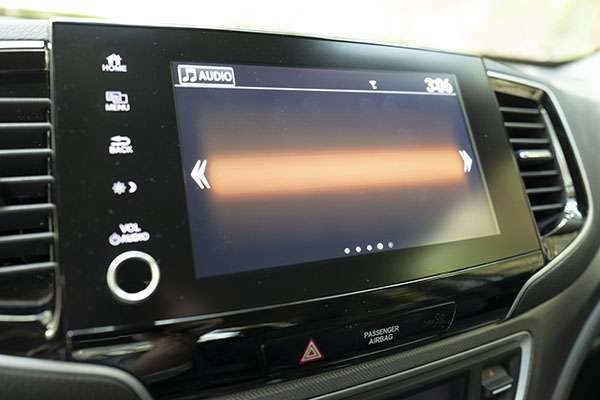 The sound of the basic audio system is actually quite good.
But the graphics of the infotainment system look a bit old when compared to others. Even from Honda.
Although, again, this is a base model.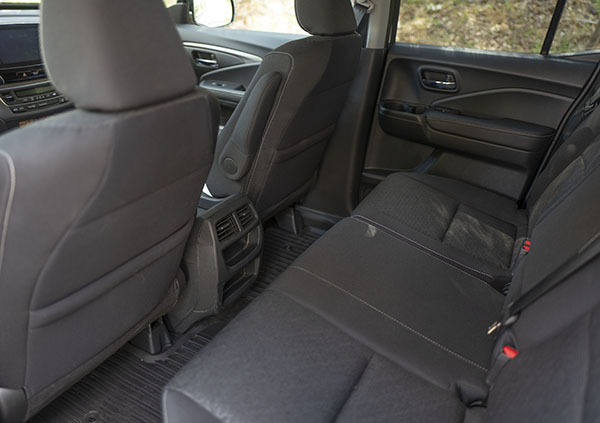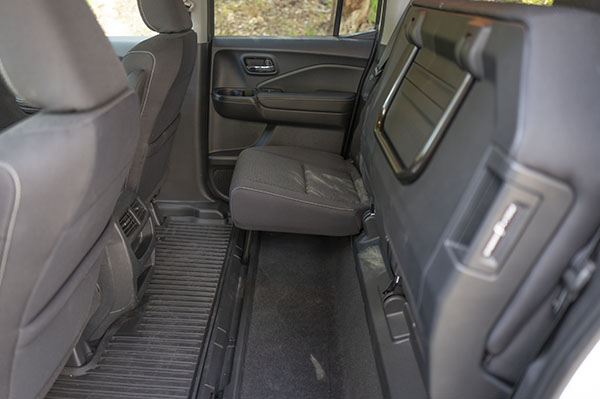 The back seat is pretty fantastic. (although quite flat and firm) As it is really roomy. And you can flip it up, like in the Fit, and actually fit tons of stuff back there.
The Ridgeline bed is quite roomy. More so than its competition from Toyota, Nissan, GM and Ford, And is very nicely finished. The hidden locking "trunk" is also much roomier than it looks.
Which helps a lot in everyday life. You can actually put plenty of stuff in there and not worry about it being exposed.
The Ridgeline claim of fame is its car-like ride compared to the competition. And it is all true. This is by far the best riding truck out there. (Although I have not driven the Ranger or Toyota)
The ride is very smooth and solid.
And Honda's 3.5 Liter V6 is just fantastic. This is really a luxury car engine in a truck body.
The driving experience is much closer to a luxury vehicle than a truck.
Too bad the steering is just a bit too numb.
The Honda Ridgeline is rated at 18/22MPG.
In my daily driving, I got 15/16 around town. And closer to 24/25 on the freeway.
As I mentioned earlier, I thought my test truck was quite expensive for what you get.
But, the base price is $37 665 including destination. Which includes AWD and V6. A similar Tacoma is about $1000 more. And the competition from Ford and GM isn't much cheaper.
What is very expensive is the HPD package.
Instead, you can order the model up from the base, the RTL for $39 500.
Which includes almost everything you actually want to make life with the Ridgeline much better. Like leather seats, sunroof, leather steering wheel, power heated seats with memory, satellite radio, and more.
The very well-equipped RTL version is actually cheaper than the base model with HPD.
The Honda Ridgeline isn't for everyone of course. If you must have an old fashion truck, this is not it. But as they say, this is all the truck 90% of people need. And it's true.
The RTL model for under $40 000 is actually priced very well against the competition. (even though I still can't believe how expensive pick-up trucks have become…) And absolutely needs to be on your list if you are shopping for a pick-up.
The Ridgeline's main problem is a split personality. It is a basically very refined vehicle, now trying to appeal to people who generally don't care about refinement.
Quite a pickle…