2022 Hyundai Santa Cruz: official pix…
Last Updated: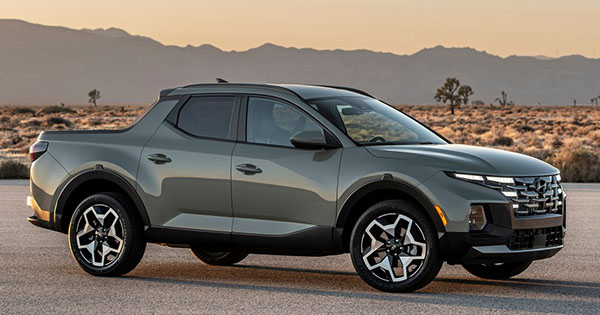 After so many years (I think it's been over 18 years now) of seeing spy shots, we finally get to see the real thing. The 2022 Hyundai Santa Cruz pickup is finally here.
And I think it looks really cute. It also seems quite small.
With a short bed and not much rear-seat legroom.
It is about 15 inches shorter than the Honda Ridgeline. And its bed length is 48.5 inches, instead of 63.5 inches for the larger Honda.
The base engine is Hyundai's familiar 2.5 Liter engine with 190HP and the 2.5 Turbo with about 275HP is an option. As well as AWD. Towing is up to 5000 pounds with the more powerful engine.
Pricing is not available yet.
I think this looks cute and fun and is really a cool throwback to small pick-ups from decades ago. It'll be interesting to see how popular it gets…