2022 Ford Maverick: huge hit recipe…
Last Updated: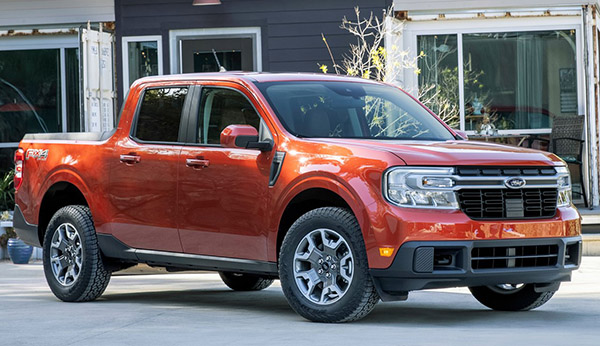 The new Ford Maverick will probably be an instant giant hit for Ford.
It is a genius idea, and very well executed. From a company that knows exactly what their customers want.
I am not a truck person, at all. So this would never be something I would even consider. As far as I am concerned, the Hyundai Santa Cruz is much more attractive and original than this. But again, I am not someone Ford is selling this to. (and the Hyundai will be more expensive)
The size of the Maverick will be very attractive to urban truck lovers. And it does look like a small F-150. Which is a design that around 1 million people love enough to actually purchase every year.
In this case, playing it safe is the right business idea.
On top of this, it comes standard as a hybrid! Which is quite an amazing movie.
The standard power train is the 2.5 Liter Hybrid /CVT that gets 40 MPG in the city!
And you can still get a 2.0 Liter with an 8-speed auto if you like that better.
The standard model (Hybrid0 starts at $20 000. ($21 500 with destination)
Which is quite an amazing price. While the top of the line Lariat model starts at around $25 000. Which is still great.
So far, if you want AWD (with rear independent suspension), you'll have to get the 2.0 Liter. As the Hybrid will be FWD only. At least for now.
Inside, things are pretty straightforward, with a few cool design touches. Like the door panels. And the really cool grey fabric.
I think the interior is actually better than the one in the Bronco Sport.
No matter what, this has "huge hit" written all over it.
Another great move from Ford.
They really should offer the new fabric on the Bronco Sport. And how about the hybrid?!?!