2022 Lexus NX: more colors and details…
Last Updated: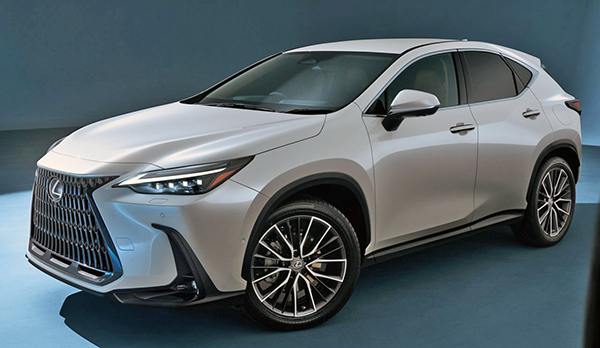 The new 2022 Lexus NX is a serious case of "the more I see it the more I like it".
I was quite disappointed at first, but I have to say, I like it much better the more I see it.
Just look at these cool colors!
Inside, no matter what color you pick, you're getting a lot of black. No matter what.
It seems different versions get very different trims. Like the wood or that plastic diamond-looking shape on the door pictured above.
Both a regular sunroof or a double sunroof are offered.
I was also complaining about the screen that for some reason doesn't seem integrated into the design, sticking out in a weird way.
But, as you can see, the smaller version of that screen (bottom pic) looks much cleaner.
That smaller 9.8 inches screen is probably large enough anyway.
And it's great to see a volume knob. Sorely missing in the new Venza.
I think the standard engine should not have been the 2.5 Liter with 205HP. This is too close to the much cheaper RAV-4. And the competition from the Acura RDX and Buick Envision both come with a Turbo engine standard.
Lexus should have made the new 2.5 Liter Turbo standard. You know that base 2.5 Liter will probably be dropped in a few years…
Good to see a PHEV with a 36 miles range. Which is actually "almost" useful. Plus, with the tax rebates, it might actually not be much more expensive than the regular Hybrid?
Like I said, I do like it more and more. The double sunroof is very nice. Open-pore wood etc.. Although these are probably high-end features that force you to get the larger, 14-inch screen…
I have to say, that interior is very similar to the new Toyota Mirai. Which was probably designed to be a Lexus in the first place…