2022 Mercedes SL: Now the "AMG-SL"…
Last Updated: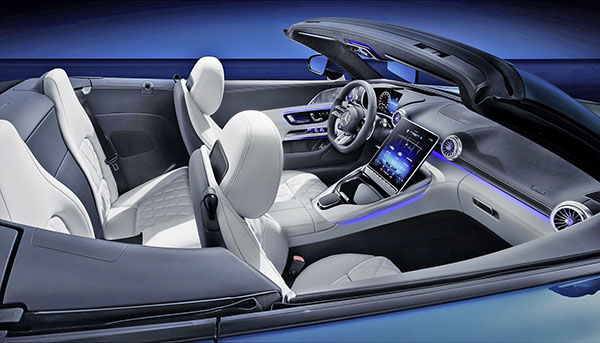 Mercedes just released a bunch of pictures showing the interior of the all-new SL replacement. The AMG-SL.
I guess they wanted to give it more of a sporty vibe by associating it with AMG. On top of that, the new model actually replaces the AMG GT Roadster as well.
While it might be sportier than the current SL, it now has rear seats.
The interior is basically a blend of all other current Mercedes interiors. With zero original touches. Which is too bad…
It is interesting to see an earlier design sketch (bottom pic). Which actually shows what could have been.
Even though it looks about the same as the production car, it's not. The vents are not as rounded, therefore, are a much better fit behind that huge flat screen.
The flat wood trim would have been a nice touch too. And the console design is much simpler and more modern.
Even though it is very similar, I think the small changes they made to the production interior ruined the design.