2023 Ford Mustang: some news and a new illustration…
Last Updated: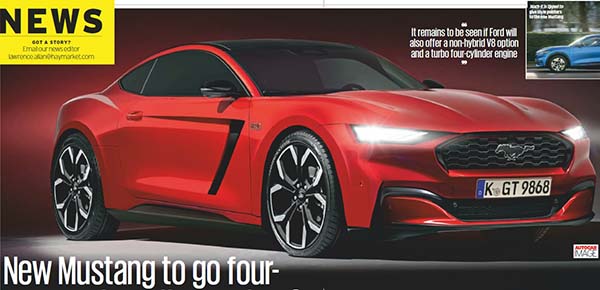 Ford did say a few years ago, that the Mustang was safe. When talking about their switch to "all SUVs and trucks, all the time".
But there has been almost no news since about the next generation.
Now we hear about a 2023 model year for the new car. Which means it would be introduced in a few months. But we haven't seen any prototypes yet. (I remember seeing spy shots of the current generation long before it was actually introduced.)
Engines are rumored to be hybrid versions of what we have today.
A hybrid 2.3 Liter and Hybrid 5.0 Liter.
And, this would be the very last generation ICE Mustang. A new all-EV model would be out about 5 years later.
Which means the Mustang will be one of the last Ford models to make the switch to electric…