Tesla Model 3 price increase: Even Google cannot keep up…
Last Updated: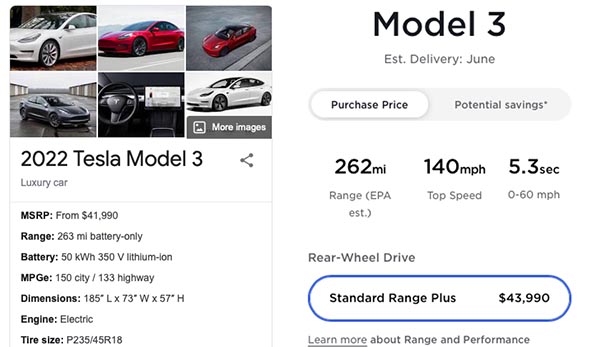 I am actually quite amazed at the nonstop price increase on various Tesla models.
No other manufacturer in the world would get away with it. The excuse is always some BS like "supply chain issues". While part and chips shortages are big problems, no other manufacturers have increased their MSRP by that much in such a short time. This has to do with manufacturing plants, small capacities, manipulating the market, etc… But mostly with putting more cash in Elon Musk's pocket.
Just a few months ago, the cheapest Model 3 was $36 990. It is now $7000 more. Or almost 20% in 8 months!
A year ago, the Model S base price (long-range) was down $69 420. As soon as the new interior was unveiled, the price jumped by $10 000. It is now a crazy $95 000! Or $25 000 in one year. Sure, you do get a redesigned interior. (although no other manufacturers increase their price by 15% when they redesign an interior). Still, it also increased by $15 000 since the new interior was introduced.
It makes you wonder how long they can get away with this…