2022 Toyota Aygo X: changeling the old Juke…
Last Updated: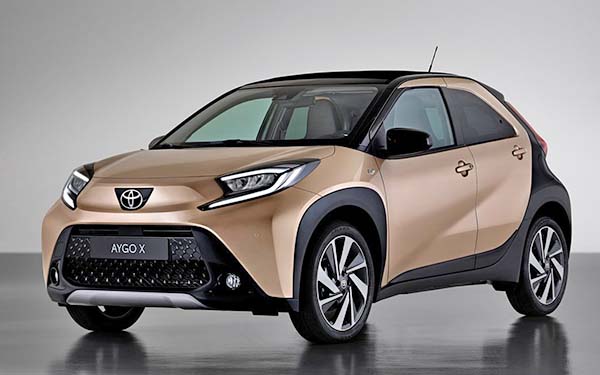 The new Toyota Aygo for 2022 adds an X to its name. This means it is now more like a Crossover than the tiny 4 door hatchback it used to be.
While traveling in Europe, I have seen the current Aygo (And its Peugeot and Citroen clones) many times and was always shocked by how small they are in real life.
This time around, it is based on a larger platform, and will not be getting clones from Peugeot and Citroen.
The new version is longer, but at 145.6 inches long, it is still about 2 feet shorter than a Nissan Kicks.
And still much smaller than a Hyundai Venue.
It is fair to say that sales in the US won't even be considered.
I think Toyota was quite successful at designing a cute tiny car/crossover/SUV thing. Even the front grille is pretty restrained. As a matter of fact, that whole front end would make the new Corolla Cross much better looking. ( I stall have not gotten used to the ghastly huge lower grille on that one)
The cool canvas top would also be a great option on the Corolla Cross. Instead of just a small, old-timey, sunroof.
The major downside seems to be the hugely claustrophobic back seat. And that tiny rear window doesn't even go down.
While the front seems like a fun place to be, with a cool dash (with a nicely integrated screen for a change), the rear is probably best suited for installing infant car seats.
It is powered by a small 1.0 Liter 3 cylinder engine. And goes on sale in Europe in 2022.