2023 Kia EV6: amazing in person…
Last Updated: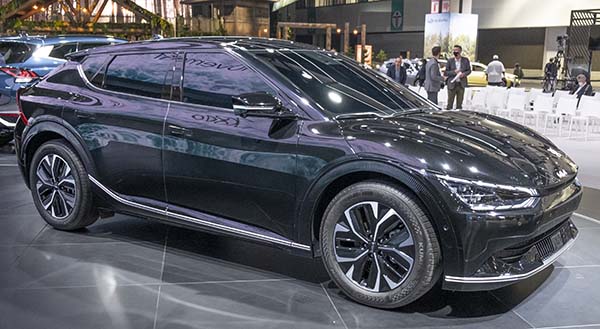 Just like everyone else, I had seen 100s of photos of the new Kia EV6.
This week was the first time I actually saw one and sat in it. And all I can say is "WOW".
I also have to mention, that I am a huge fan of that interior color that I have not seen yet in photos. This is the "base" EV6 model, not the "GT Line". Or GT.
The brown and black interior is just fantastic. And the quality is miles ahead of anything Tesla has to offer at any price.
The Kia is also far roomier than a Model 3. The rear legroom is quite amazing.
The huge hatchback is a big plus and the rear seats fold practically flat.
The only small thing I didn't like was the steering wheel blocking the top sides of the screen behind it. 3rd pic). At least in my preferred driving position.
I noticed the exact same thing in the Hyundai Ioniq 5.
Unlike the Hyundai, there is no huge glass roof available. Just a large sunroof over the front seats.
The rear of the car looks very futuristic, which makes the front end feels a bit too conservative. Especially next to the Ioniq5. Which looks retro/futuristic from any angle.
The RWD version gets 300 miles of range. Which is better than the ID.4 and Toyota b4RTSWZXYZ.
Although similar to the Nissan Ariya.
The only question mark left is the US pricing.
Let's hope they can match the ID.4 at under $40 000 to start. And not the Aryia which begins at over $46 000…