2023/24 VW Golf: a very early illustration…
Last Updated: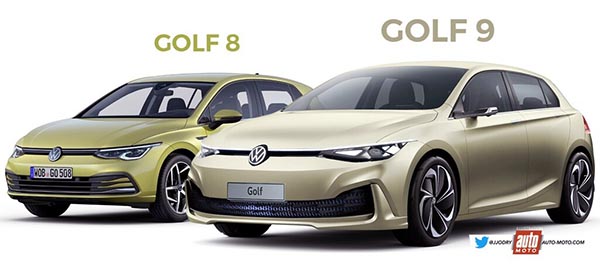 I haven't seen the new-generation VW GTI in person yet, and we already have an illustration of what the next Golf could look like…
The current, 8th generation VW Golf was revealed over 2 years ago, in October 2019. VW decided not to sell it in the US. Instead, choosing to only bring the GTI version over here.
The new GTI has been available in the US for a little while, but as I said, I haven't seen one yet.
Even after 2 years, trying to guess the next generation of anything is rather early. Unless there have been rumors of a very short life span for the current model for some reason.
Or maybe VW is in a hurry to transform their best-selling model into an EV as fast as possible.
the illustration above shows the usual VW thinking: "the same a little more modern".
Which has been working fine as far as the Golf is concerned, for many decades.
It would be nice to see a return of the Golf EV in North America. I actually think an affordable, electric hatchback could be more popular here than the regular Golf. Plus, the market will be heating up with the arrival of the new, smaller EV from Tesla in a year or two.
Why not…