Auto Show notes: Hyundai Ioniq 5…
Last Updated: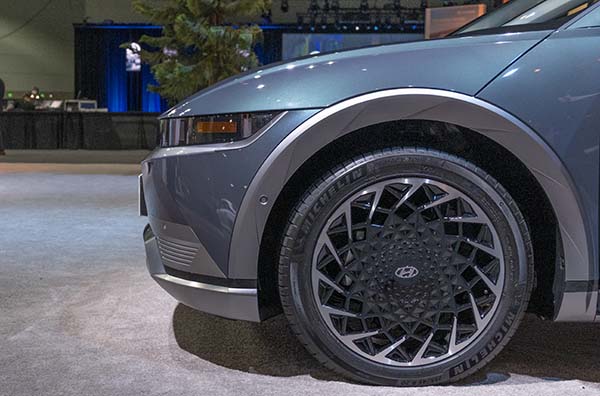 I was really eager to see the new Hyundai Ioniq 5 in person.
As this retro-futuristic "Giugiaro-like" 80's design is one of my current favorites.
And the Ioniq 5 does not disappoint in person. It just looks great from any angle. Although I have to say, things would be even better without the wheel arches. They just don't belong there…
But I guess that's how the marketing suits get to call it an SUV for some reason.
Just like everyone has said before, it has a huge interior. Everything looks great and is very high quality.
But I noticed that the steering wheel was actually blocking parts of the screen. The photo was taken after I adjusted everything to my driving position. And the camera right in front of my eyes.
I never noticed that before in other cars. (The Kia EV6 does it a bit too)
The photo above is the same driving position in the new Toyota b4 WXZTWZ EV. And I think their screen position is actually far better than just right behind the wheel.
Another weirdness is the glove compartment. In so many videos from Europe and Korea, they show the really cool drawer-like glove box. (Above pic)
Instead, the US market Ioniq 5 gets a regular old fashion opening. And it is also much smaller.
Why???
Is there some weird "Glovebox regulation" I am not aware of? This is really too bad.
I also noticed the driving position is almost Minivan-like. With no real center console or separation between the front seats. Which is something I am not used to.
For that reason, and some others, I actually like the EV6 interior better.
I really hope Hyundai can keep the price starting at around $40 000. (The Toyota will start at around $37 000) I know Hyundai and Kia have a 300 miles range, but the $46 000 from the Aryia would be too much.
They have a great product and need to price it aggressively.
I really think these two can take some sales away from Tesla.