Kia EV6: Just say no. For now…
Last Updated: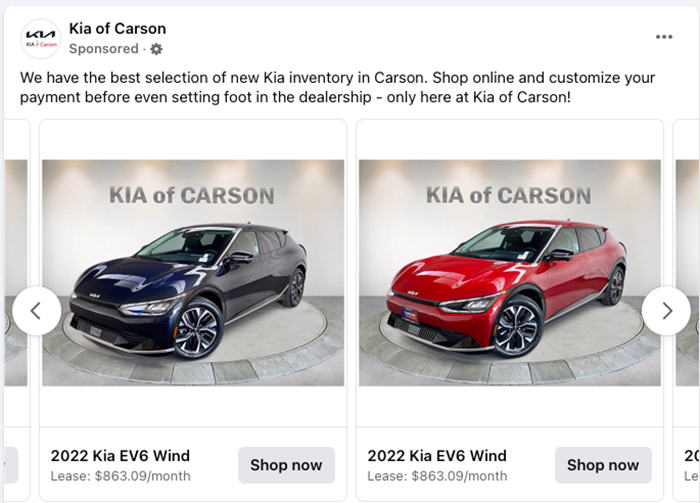 We all know this is the worst time to buy or even lease a new car. Chips and parts shortages are turning the car buying experience into a worse nightmare than it already was.
Dealers just don't have enough cars on the lots and many of them are charging huge markups.
A friend of mine was quoted $45 000 for a Nissan Kicks!!!. Infiniti dealers charging bogus "Covid Fees" to allow you to return a car from a lease etc…
Apparently, it is the same thing with leasing. Like most of you, I am on Facebook and bombarded with ads. But this one from a local Kia dealer stood out. Usually, they don't mention a price. Or they do mention"MSRP". Which is not what they actually will charge once you get there.
At least this Carson Kia dealer is upfront with the crazy prices.
They offer an insane $864 a month lease for the new Kia EV6 Wind.
The RWD Wind is priced at $47 000 and the AWD version is $50 900.
Which is much cheaper than a Tesla Model Y which starts at $59 000.
And that is basically the point of the Kia EV6.
Kia trying to compete with the Model Y at a cheaper price point.
Otherwise, the vast majority of people will just get the Tesla. That's just how it is…
But, as you can see, the local lease price is $214 more than a Tesla Model Y! With the same down payment. (bottom photo)
These dealers don't care at all about the brand they are selling. They just want to make a quick buck. While Hyundai/Kia is trying very hard to get very competitive products are very competitive prices.
Hyundai even complained to their dealers by sending this:
" We are writing this now because with great regularity our customers around the country are voicing displeasure with certain practices which, if left unchecked, will have a negative impact on the health of our brand".
The dealer system has to be revised. We should be able to get a car directly from the manufacturer at full MSRP. Just like Tesla. And what Saturn was doing years ago.
I would not buy a Tesla myself. But you have to admit, the much better experience of not having anything to do with a dealer, and saving $214 a month for a much more expensive car with one of the best resale values around is a huge plus.
Unless you enjoy that rare feeling of getting ripped off…
Has anyone here been through a good car buying experience in the last year?