2023 Acura Integra: official photos and info…
Last Updated: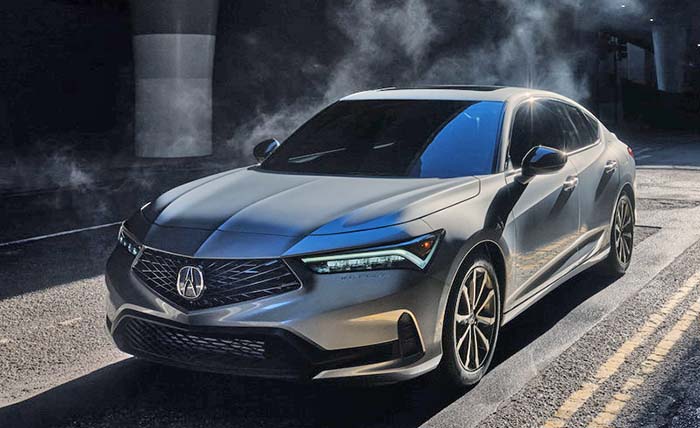 Here it is, the new 2023 Acura Integra. And the best part of it is its name. Followed by the hatchback. (4 door sedans with a hatch are more than rare these days in North America)
Otherwise, the design looks a lot like a smaller TLX. Which is what Acura was going for. Instead of the previous Integra models. The car is basically what a 2022 Civic Si hatchback would be underneath.
It gets 200HP from the 1.5 Liter Turbo. And CVT is standard on all models. The 6-speed manual from a Civic hatch is an option on the top-of-the-line A-Spec Tech model only.
The CVT gets paddle shifters. Usually, these are always just a gimmick. But the adaptive dampers with 3 settings (another A-Spec Tech only feature) could improve the ride over the Civic. Otherwise, the interior is not exactly the same, but very similar (black interior is the Civic)
As you can see, the console (bottom pic) still doesn't offer vents for the rear passengers. And the sunroof is the tiny old fashion one from the Civic. They offer the fantastic 16 speaker ELS sound system. But again, only on the top-of-the-line model. The other 2 get the standard 8 speaker unit from the Civic (not even the cool 12 speaker Bose)
The new Acura has a weird choice of trims too. You either get a base model or the sportier A-Spec. The Tech package option is only available on the A-spec. While you can add a tech package or even Advance Package on all other Acura models without being forced into an A-Spec version. Just weird… Especially for music lovers who would love the ELS system but don't necessarily want black wheels, spoiler etc…
The "around $30 000" base price seems to be about $3000 more than a comparable Civic EX-L. (Except the Acura doesn't get real leather) The base model comes with 17-inch wheels while both A-Spec versions get 18-inch wheels.
I guess $3000 isn't a huge markup for a near-luxury brand. Although the good stuff that makes it better is only on the A-Spec tech. The 16 speaker sound, adaptive dampers, etc… That will probably be over $35 000. A $5000 mark-up over the loaded Civic Hatch Sport Touring. Not sure this will work…