2022 Chevrolet Bolt: test drive…
Last Updated: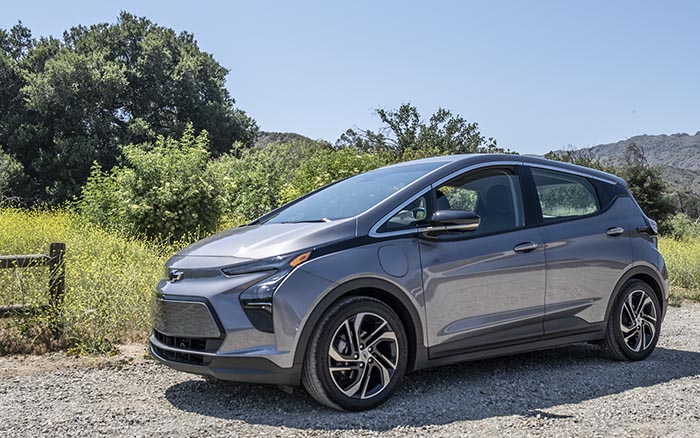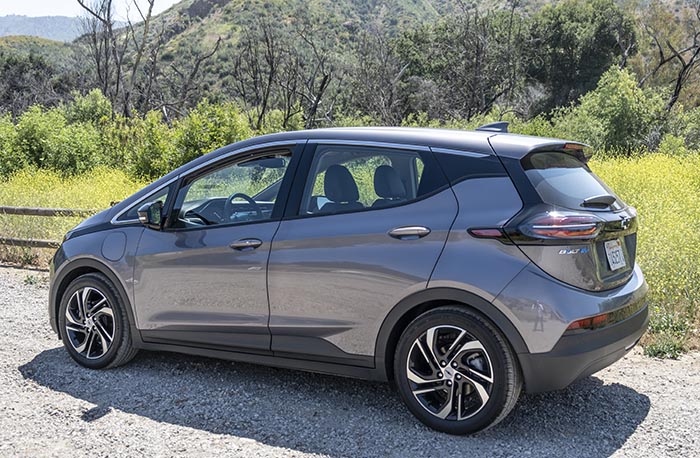 Since it's been out for a few years, we've all seen the Bolt. For 2022, it has been heavily revised. With a much more modern and futuristic front end. And a redesigned rear end. (Which, somehow, seems a bit more conservative)
I think the changes work very well to keep the Bolt design fresh.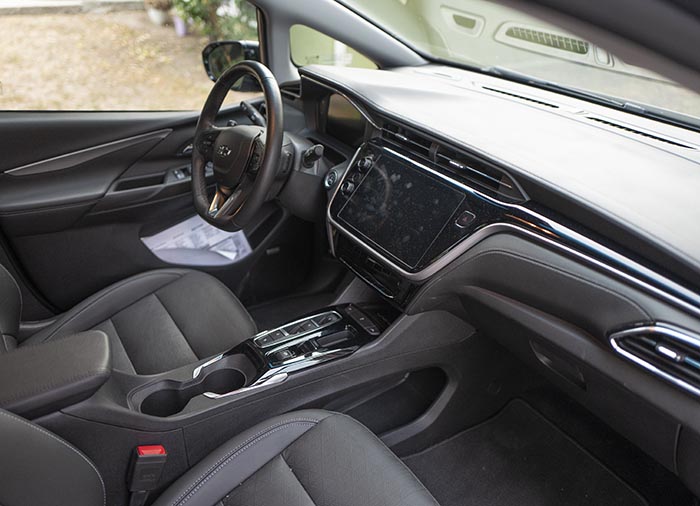 The interior is all-new. I am one of those who actually liked the old interior. But the new one is a huge improvement. Although it does look more conservative.
Materials are great everywhere. Yes, the stitching is fake. But it's hard to tell.
The new shifter is very intuitive.
The redesigned seats are very comfortable. And the optional Bose system works fine. Bit the best Bose (like the one in the Civic Touring), but pretty nice.
I just wish it was available in another color than all-black, like it used to be.
The rear seat is as roomy as ever. And the trunk is pretty huge for the size of the car. It's kind of like an electric Honda Fit. (Something I remember noticing 4 years ago…)
The first thing I noticed was the pretty artificial steering feel. Although I got used to it pretty quickly. At least it doesn't feel too light. Like most cars.
The suspension is a bit firm but comfortable. However, it does deteriorate a bit on bad roads.
Of course, it is quiet and punchy, since, EV… But it's also quiet at freeway speed.
I drove about 30 miles on my first day. And decided to plug it at home overnight to make sure the battery would be full the next day. I only have the regular snail plug with 110W outside.
Still, the next morning, the battery was full. Reading that 260 miles were available.
After a few days, I got the readings above. The bottom pic shows I had actually done over 271 miles. With about 55 miles left!
If true, it would mean 326 miles on a full charge. Even if a bit less, I still did over 270 miles.
Which is amazing, but also quite difficult to explain…
I drove the Bolt a few years ago and was pretty impressed. Back when the base price was about $37 000.
The car I drove was a loaded 2LT priced at $36 165 including destination.
(The base Bolt is currently about $31 000)
In a surprising move, GM just announced that pricing for the 2023 model will be about $6000 less!
The $37 000 Bolt was good. At $26 000, it's amazing.
Sure, it doesn't charge as fast as newer cars like the Ioniq5, EV 6, and others.
But at 50kW, it still charges in 7.5 Hrs at home on a 240V. And about 1hr on the road from 10% to 80%.
Which is just fine.
I drove around every day and almost went through a whole week on a charge. (about 80% city driving)
The Bolt doesn't qualify for the federal tax rebates anymore. But there are many state rebates available.
(It's about $4000 total here in California)
This means it could end up costing the same as the base Civic. Or a Nissan Rogue.
Also, when good leases become available again (well under $200/month), this will basically pay for itself by just saving on hugely expensive gas bills.
I really think a $26 000 EV with an electric range of over 260 miles could be a game-changer for many people.
On a side note, the RWD Tesla Model 3 was priced at around $42 000 last time I drove the Bolt.
Once the 2023 model comes out, the Bolt will be $21 000 less than the base Model 3! (If it stays at its current $47 000 price)
Of course, most people won't compare the little Chevy to the Tesla. But why not? The real-world range of the Bolt is probably better than the base Tesla. The interior is now actually more upscale. It's at least as roomy.
But it's not as fast. Although fast enough for 99% of buyers. It also doesn't charge as quickly. And you probably won't impress your family and neighbors as much. And the base Tesla still comes with an upscale sound system and a really cool glass roof.
But, $21 000…..