Tesla Model 3: new rebate…
Last Updated: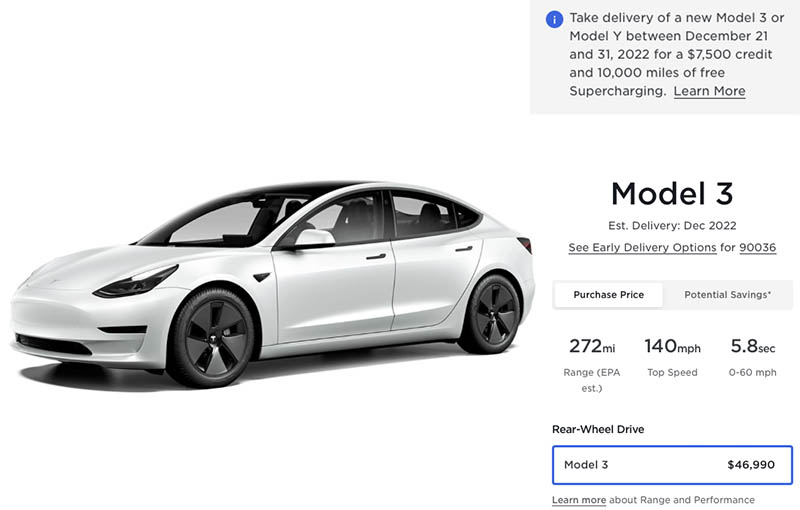 Just a few days ago, Tesla was offering a $3750 rebate on the Model 3. A few days later, they added free charging for 10 000 miles. And now, the rebate is up to $7500.
The main reason is probably to boost sales right before the end of the year. Just to make sure final delivery numbers are up from last year. (these Tesla stocks aren't going to go up by themselves, are they…)
This is a great deal for someone looking to buy a Model 3 before the end of the year. Sales probably slowed down once people realized the car will qualify for the $7500 federal rebate in just a few weeks. The new discount basically covers the upcoming rebate.
At under $40 000, the Model 3 is more attractive. It is a well-equipped car, with basically no options. Except for larger wheels. Although you have to pay for color and a non-white interior. But everything basically comes standard. Like a glass roof and a great sound system. It also doesn't have much competition, since most EVs are still Crossover types. The only upcoming Electric sedan will be the Hyundai Ioniq 6. And who knows how much that will be. (It also won't qualify for the new federal rebate.)
Sales must have also gone down once we found out the Model 3 is due for a refresh in just a few months. It might only be getting revised headlights outside, but a new interior design is a strong rumor. Which is another reason why people would wait.
Going to the Tesla site and trying to configure a Model 3, I found out that delivery times are almost instant. With "estimated delivery" mentioning "December 2022". When it used to me months just a while ago.
On a personal note, I have two friends who own a Model 3. Both bought them a few years ago. And both love the car. (Although one says he has never been able to get the official EV range). One is looking to sell the car. All because of Elon Musk's shanangans. The other is looking for a second car. Which will not be a Tesla. Again, because of Musk's childish, political and offensive behavior.
This will be a long-term problem for Tesla. I think opening up the chargers to everyone will end up saving the company in the long run, allowing Tesla to make money with every single EV sold. Not just theirs. The negative brand image is already affecting the company. And it could get much worse…