Nissan Altima Hybrid review
Last Updated: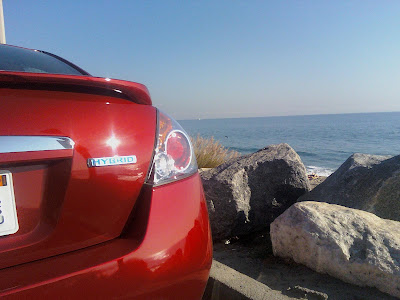 I was really curious to drive a real hybrid. Not something like the Saturn Vue Hybrid I drove a few weeks ago. Where you pay about $3500 for a 1mpg gain.
I drove the Prius before and I am must say I'm not a big fan. It feels to me like driving a washing machine.
The Altima (and the Camry hybrid) are geared toward people who want a more "normal" driving experience.
-HOW DOES IT LOOK?
Well, it just looks exactly like a regular Altima. Just like the Camry hybrid does look like a regular Camry. These are not show off cars.
They don't make a statement. Or maybe the one that you "don't want to make a statement". You just want to save gas.
It's kind of like giving to charity anonymously.
I think the Altima is a really good looking car no matter what version.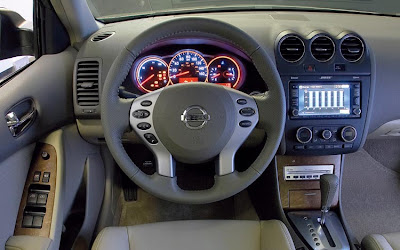 _HOW IS IT INSIDE?
Again, pretty much like all other Altimas. Except for the video screen, telling you what's going on under the hood.
The interior of all Altimas is very nicely designed. Although it doesn't have as much personality as the Malibu's interior.
It is pretty bland, but materials are all of very good quality and everything fits very nicely.
The back seat is also very roomy.
The version I tested was loaded with every single options. But it still didn't have memory settings for the seats.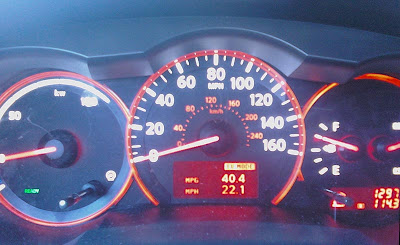 -HOW DOES IT DRIVE?
-Ride.
The ride is very smooth without ever being too soft. Again, very similar to the other versions.
-Steering.
I thought the steering was a bit on the luxury/over boosted side. But it was still precise.
And for a car you're not supposed to drive like a sports car, I guess it's OK.
-Engine.
This is the heart of the car. The gas engine is so smooth and quiet that it is very hard to tell when it switches from electric to gas. Or when it turns itself on and off. It seems to be a perfect match for the electric motor.
I was able to drive up to about 37MPH on electric alone!
Sure, as soon as you push it just a little bit, the gas engine starts.
But still, it is a lot of fun, cruising at 30MPH in total silence. It really feel futuristic.
-Transmission.
I am usually not a fan of CVTs. But this is the 2nd Nissan CVT I drive and it is, again, excellent.
If you really want to punch it, you will still miss the feel of downshifting, but this is not at all what this car is about.
There is enough power for almost any use, and the CVT is more than up to the task in this car.
A perfect match to the engine.
-SO???
Well. The loaded Altima Hybrid I drove was about $34 000. Very expensive for a mainstream midsized sedan.
The equivalent SL model, with the 2.5 Liter engine will cost about $30 000. So that is a $4000 difference.
In today's market, you can get the Hybrid for $2000 under MSRP, and the SL for $3000 under.
So in real life, the difference is more like $5000.
Is it worth it???
The Hybrid is rated at 35 MPG city and 33MPG HWY.
During a whole week of driving, including about 40% Hwy, I averaged 40MPG. Yes, 40.
So at 40MPG I would say this is a real advantage over almost any car that size.
Is it still worth $4000? I'm not sure. And that all depends on how fast gas will get back to $4 a gallon or more..
But the Altima Hybrid is a really good family car no matter what. And a pleasure to drive.
Plus, it does start at under $27 000, for a hybrid with real advantages over the gas version.
Unlike the Aura….