2011 Chevrolet Cruze RS, and Eco
Last Updated: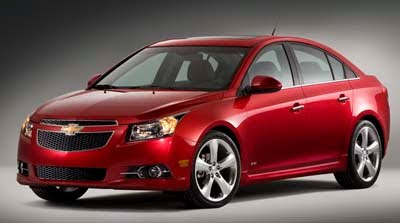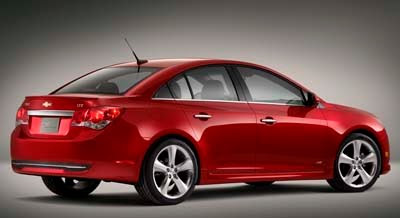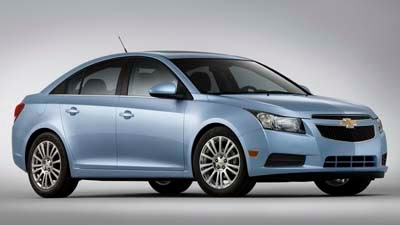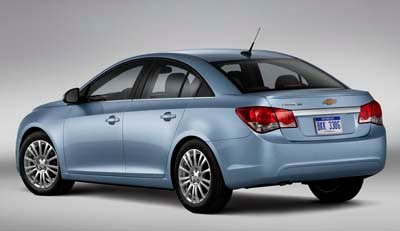 The RS is a package available as an option on the LT and LTZ models.
It includes these great looking wheels you see on the red car.
TheEco uses the new 1.4 Liter Turbo and gets 40mpg HWY.
I just don't get the numbers…
The other engine available is a 1.8 Liter with 136hp, while the smaller turbo gets 138hp (With more torque).
But although 40mpg is good, it's not that amazing. The 1.8 liter should also get at least that…
By the way, I was driving the Kia Forte with a 2.4 Liter engine yesterday and got a bit over 39mpg HWY. (It is rated at 33)
Here is the official word from GM:
"Featuring a 1.4L Ecotec turbocharged engine with variable valve timing, the Cruze Eco is designed to be the most fuel-efficient model in the lineup, delivering an estimated 40 mpg on the highway with the standard six-speed manual transmission. City fuel economy, as well as estimates for the Cruze Eco equipped with an available six-speed automatic transmission, will be finalized closer to launch.
* A lower front grille air shutter that closes at higher speeds to improve aerodynamics and opens at lower speeds to optimize engine-cooling airflow
* The upper grille has more "closeouts" to improve aerodynamics

* A lower front air dam extension, extensive use of underbody panels and a rear spoiler enhance aerodynamics

* A lowered ride height improves aerodynamics

* Unique 17-inch lightweight aluminum wheels

* Ultra-low rolling resistance 17-inch Goodyear tires.
Cruze's 1.4L Ecotec turbo performs like a larger engine when needed, but retains the efficiency of a small-displacement four-cylinder in most driving conditions; it is standard on Eco, LT and LTZ models. Rated at an estimated at 138 horsepower (103 kW) and 148 lb.-ft. of torque (200 Nm), it enables a cruising range of more than 500 miles (800 km). Cruze will lead the way for Chevrolet in the use of small-displacement, turbocharged Ecotec engines that are highly fuel-efficient and power vehicles that are fun to drive.
Standard on LS models is a 1.8L Ecotec four-cylinder rated at an estimated 136 horsepower (184 kW) and 123 lb.-ft. of torque (166 Nm). Both engines are designed with fuel efficiency in mind, including technology such as variable valve timing that optimizes performance and fuel economy.
Backing the Cruze's engines are six-speed manual and automatic transmissions. Each contributes to excellent fuel economy."