Suzuki Kizashi test drive.
Last Updated: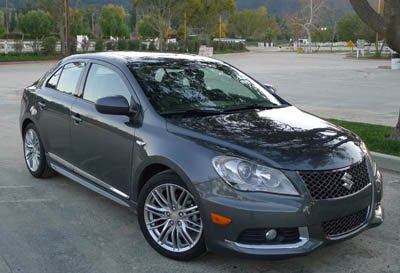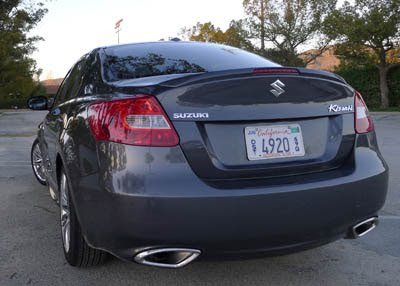 -OUTSIDE.
The Suzuki Kizashi is quite a good looking sedan.
With a good presence on the road.
Especially the Sport SLS model I was driving.
Is is quite sporty and aggressive looking. But its not overdone.
I nice balance. And it also does look more upscale than the sub $20 000 base price might suggest.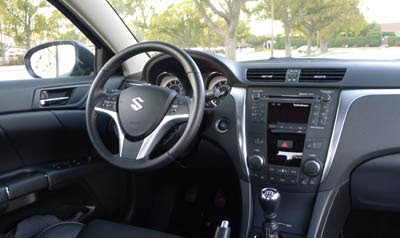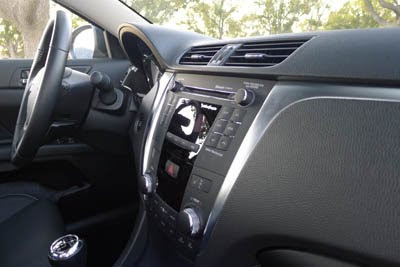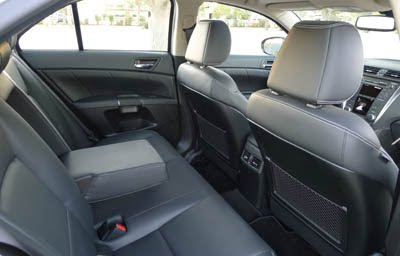 -INSIDE.
The interior is a very nice place to spend time. The design is simple yet quite upscale.
Most plastics are soft to the touch (But, somehow, not the top part of the dash).
Doors feel heavy and have a solid and expensive sound when you close them.
Front seats are very comfortable and the rear bench is roomy.
Everything feels very solid.
The 10 speaker Rockford Fosgate stereo sounded very good. And, once plugged in, the iPod is hidden out of sight in a small compartment within the console. Just like it should be.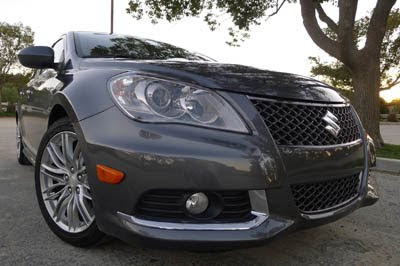 _THE DRIVE.
.Ride.
The ride is about as good as it gets.
It is very comfortable, yet a bit firm. And the whole car has a very upscale heavy feel to it.
Even though it is very nimble, it does have a very "expensive German sedan" feel to the way it drives.
More like an Audi than any other Japanese mid sized sedan.
.Steering.
The steering is pretty firm, with great feedback.
It makes the car such a pleasure to drive. Especially after other models like the new Jetta whose steering feels so light.
This one needs some effort and always feels great.
.Engine.
The 2.4 Liter engine has 185hp. Which should be fine.
But the car is such a pleasure to drive that, it does come up a little short.
This car begs to be driven, pushed. And when you do, the engine doesn't sound that great (not nearly as good as the 2.5 Liter in the Jetta), and not much happens.
It isn't bad, but the rest of the car is much better. It deserves better.
Something a bit smoother, and more powerful.
The Kizashi is rated at 20MPG in the city and 29 HWY.
I had no problem getting about 24 in the city, and I even got over 40 MPG on the freeway.
Which is really good. So, there is the compromise.
I did get great mileage, and still had fun doing it, even though I wished for more power.
.Transmission.
My car was equipped with the 6 speed manual.
Which might be the smoothest manual I have ever driven. It is a pleasure every time you get behind the wheel.

-SO???
The Suzuki Kizashi is truly a great car.
The Sport SLS I drove came to about $26 000.
And this is pretty much the most fun you can have with 4 doors for that amount of money.
It feels and drives like a much more expensive car too.
It is Lexus quiet at idle and when driving.
Only when you push it the engine sounds like what it is: a regular middle of the road family sedan engine.
Except he Kizashi is not a regular family sedan. It is something special.
A true driver's car for someone who still needs 4 doors.
It does deserve a better engine.
I also understand that with only few dealers around, it is a tough choice.
Plus, during my 2 weeks with the car, no one knew what a Suzuki was.
Not a good sign for resale value.
I would still put it on top of my list. A lease might take care of resale worries.
Or just keep it, and put a smile on your face every time you drive….