Mustang V6 Test Drive.
Last Updated: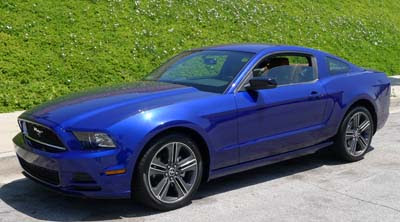 Ever since I test drove a couple of versions of the Camaro, I was curious about the Mustang.
I recently had the chance to test drive the more popular V6 version.
I am not a really big fan of the changes for 2013. The more aggressive hood. And especially the blacked out rear end.
With a busier tail light design than before. It all adds a cheap aftermarket look to last year's design.
My test car also had the manual.
So 305HP and a 6 speed stick does sound great.
Plus, I have driven the smooth 3.7 Liter V6 in other cars before. Like the Taurus, Flex, CX-9.
It all sounded great.
Until I actually drove the car…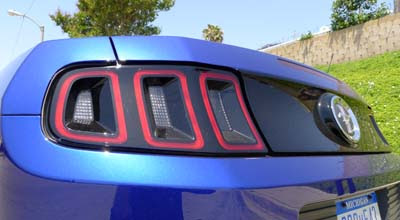 The engine sounds rough from the second you start it.
I was actually quite amazed. I know the RWD Mustang is supposed to be sportier than the Taurus. But how could the same engine sound so bad.
It doesn't sound sporty at all. Just cheap and rough. A truck or tractor engine is the closest thing I could compare it to.
The 6 speed shifts OK, but nothing amazing. And the shifter has a pretty bad case of the shakes at idle.
The steering is fine. So is visibility.
But the ride is just like the engine: rough and unrefined. Not sporty, just rough.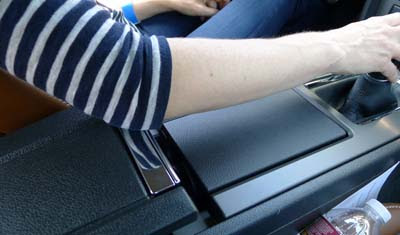 The interior is trying pretty hard to look 60's. But it has a late 80's low quality feel to it.
Everywhere. Lots and lots of shiny hard plastics. And switches that look like they're from an 80's Explorer.
And, what a great design, the center console storage opens almost every time you change gears. It's that poorly designed.
Your elbow hits it almost every time you shift.
I must say, this was a big disappointment. It makes the Camaro feel and sound like a Rolls.
I know I will get plenty of hate mail from Mustang lovers, but it's time to bring this car into the 21st Century.
My test car retailed at a bit over $31 000.
Which is way too much for what it is.
You can, of course get a more refined Camaro.
And the much more refined Hyundai Genesis coupe V6 I tested over a year ago was about $30 000, loaded. With GPS and Sunroof, which the Mustang did not have at that price.
I really wanted to like it so much….